World
West African leaders prepare to meet, Niger faces penalties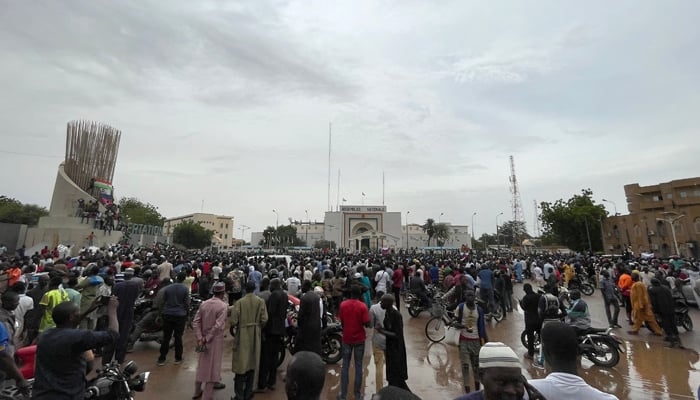 Western African leaders are expected to gather in Abuja, Nigeria, on Sunday to discuss the current events in Niger. Trade restrictions are anticipated for Niger as the government was overthrown in a military coup in Niger a few days ago.
General Abdourahamane Tiani, the head of the guard, proclaimed himself the leader of Niger after the presidential national guard took control of the nation and imprisoned President Bazoum for four days.
France, the country that formerly colonised Niger, and the European Union (EU) stopped working together on security issues and providing financial support to Niger.
The Economic Community of West African States (ECOWAS) has yet to decide what steps it will take to address the problem.
"ECOWAS and the international community would do everything to defend democracy and ensure democratic governance continues to take firm root in the region," said Bola Tinubu, president of Nigeria and ECOWAS chairman, in a statement Friday.
Niger, one of the organisation's 15 members, could face sanctions from the body.
In a conversation with Tinubu prior to the gathering on Sunday, US Secretary of State Antony Blinken expressed his "deep concern" for the situation in Niger and "underscored his support for President Tinubu's continued efforts to restore constitutional order there."
Mali and Burkina Faso, Niger's neighbours, have experienced two military coups each since 2020. These uprisings were motivated by resentment over the failure to put an end to protracted insurgencies by jihadists affiliated with Al-Qaeda and the Islamic State group.
According to Tiani, the putsch was a reaction to "the degradation of the security situation" brought on by jihadist violence, corruption, and financial difficulties.
Government's re-established
After a wave of condemnation for the coup, punitive measures have already begun.
France — which has 1,500 soldiers in Niger — said Saturday it was suspending development aid and budgetary support to the West African nation, one of the world's poorest countries.
It called for "an immediate return to constitutional order" and Bazoum's reinstatement.
European Union diplomatic chief Josep Borrell meanwhile said the bloc would not recognise the putschists, and announced the indefinite suspension of security cooperation with Niger with immediate effect as well as budgetary aid.
Borrell said the EU was ready to support future decisions taken by ECOWAS, "including the adoption of sanctions", echoing a statement by France's foreign minister.
The African Union has given the military two weeks to restore "constitutional authority".
It condemned the coup in "the strongest terms possible" and expressed deep concern over the "alarming resurgence" of military overthrows in Africa.
The United States — which has about 1,000 troops in Niger — has offered Bazoum Washington's steadfast support and warned those detaining him that they were "threatening years of successful cooperation and hundreds of millions of dollars of assistance".
Landlocked Niger often ranks last in the UN's Human Development Index, despite vast deposits of uranium. It has had a turbulent political history since gaining independence in 1960, with four coups as well as numerous other attempts — including two previously against Bazoum.