World
Viral chef builds on Tiktok success to open upscale restaurant Di Di in Los Angeles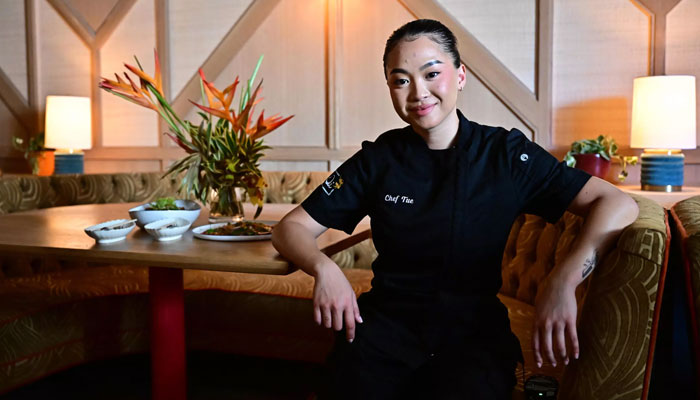 Tue Nguyen, a once little-known prep cook who gained fame on TikTok with her mouthwatering cooking videos, has achieved culinary stardom with the opening of her first restaurant, Di Di, in Los Angeles. 
The 25-year-old chef's viral success on social media platforms has catapulted her from virtual fame to real-life restaurant ownership, where she aims to celebrate her Vietnamese heritage and connect people through her delectable dishes.
Nguyen's journey to success began during the pandemic, when she posted videos of herself cooking Vietnamese cuisine on TikTok and Instagram, quickly amassing over a million followers. Despite initial insecurities about publicising her cooking online, the positive response from viewers encouraged her to continue and explore her passion for food.
"I genuinely didn't learn how to cook until… I really looked back at what I grew up with. And that's the taste of my mom's cooking," Nguyen shared, attributing her culinary inspiration to her Vietnamese upbringing.
With her online fame soaring, Nguyen took a bold step to bring her virtual creations to the real world through pop-up restaurant venues. After impressing guests and industry insiders during a two-night pop-up at Petite Taqueria, she caught the attention of John Terzian, co-founder of H.Wood Group, who was "blown away by the pop-up." The encounter led to the birth of Di Di, a restaurant that blends Nguyen's culinary school training with the flavors of her mother's cooking.
"It's a culmination of all my experiences," Nguyen said of her new restaurant venture, expressing confidence in her personal brand and style of cooking.
The menu at Di Di features Nguyen's signature dishes, including her renowned honey-glazed shrimp that first gained popularity as a culinary school project. Her dishes are a reflection of her heritage and passion, aiming to create a unique and unforgettable dining experience for her customers.
Terzian, recognising Nguyen's potential as a rising star in the culinary world, hopes that her success will inspire other young chefs and entrepreneurs, saying, "I really view Tue and this concept as a star rising."
Di Di, pronounced "dee dee," translates to "let's go" in Vietnamese, and the restaurant's vibrant and inviting ambiance is a celebration of the culture that shaped Nguyen's culinary journey.
With Di Di now open to the public, Tue Nguyen has come full circle, turning her TikTok fame into a reality that is sure to leave a lasting mark on the Los Angeles gastronomic scene.