World
VIDEO: Nightmare comes to life as roller coaster stuck 72ft above ground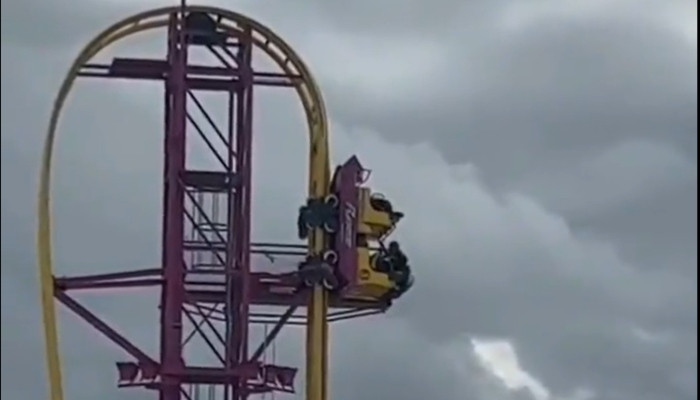 In what sounded like a real-life horror movie, a roller coaster Essex broke down mid-ride, leaving one of the cars stuck 72 feet above the ground for a full 40 minutes.
According to the clip posted on social media, the car was dangling vertically at 90° — with riders facing the sky — while Adventure Island's worried staff attended to the machine.
However, using an emergency escape platform lift, engineers could be seen evacuating the ride's passengers.
Later Adventure Island said: "Just after 2pm today a carriage on Rage stopped on the lift.
"Our highly trained team immediately initiated our ride evacuation plan, which has been certified by the Health and Safety Executives and Essex Fire and Rescue.
"All passengers were returned to the ground, safe and sound and reunited with their families within 40 minutes."
According to TripAdvisor The destination is UK's No.1 free admission fun park.
The park also came in third place is an earlier list of the country's best amusement parks, beating some of the more famous parks like Blackpool Pleasure Beach, and Alton Towers, which were fifth and 10th in the list, The Sun reported.
The publication further added: "The rankings were produced as part of the TripAdvisor Travellers' Choice Awards, meaning its position was based on public opinions."
According to the theme park's website, the roller coaster Rage — with its loops, twists and "flat-out speeds" — is its "biggest and best" ride.