World
U.S. Says Russia's Shoigu Looking For Weapons In North Korea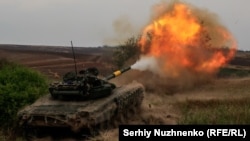 Russian forces targeted a Security Service of Ukraine (SBU) building in a missile strike on the city of Dnipro, President Volodymyr Zelenskiy said on July 28, denouncing "Russian missile terror" just hours after marking Statehood Day by defiantly reiterating the country's sovereignty.
Live Briefing: Russia's Invasion Of Ukraine
RFE/RL's Live Briefing gives you all of the latest developments on Russia's full-scale invasion, Kyiv's counteroffensive, Western military aid, global reaction, and the plight of civilians. For all of RFE/RL's coverage of the war in Ukraine, click here.
A high-rise building and the SBU building were hit, and Zelenskiy said he immediately spoke with the SBU, the Interior Ministry, the State Emergency Service, and the head of the Ukrainian military.
Zelenskiy said all necessary services were on site and pledged to "do everything to bring Russia to full punishment for aggression and terror against our people."
Dnipropetrovsk regional Governor Serhiy Lysak said a fire broke out in the administration building and at least three people were injured.
The apartment building's upper floors appeared to be in ruins in video circulating on social media that also showed smoke and flames.
The attack occurred as fighting took place at multiple points along the more than 1,000-kilometer front line, while Moscow accused Kyiv of firing two missiles that struck the border region of Rostov in southern Russia.
The Russian Defense Ministry said it shot down one of the missiles in the city of Taganrog in the Rostov region about 40 kilometers east of the border with Ukraine. Local officials reported 20 people were injured and said the roof of an art museum was damaged.
Oleksiy Danilov, secretary of Ukraine's National Security and Defense Council, blamed Russian air defense systems for the explosion.
Russia's Defense Ministry said the other Ukrainian missile was downed in the region's Azov district, and debris fell in an unpopulated location.
Earlier in the day, a Ukrainian drone was shot down outside Moscow, the Defense Ministry said. It was the third drone strike or attempt on the capital region this month. The ministry reported no injuries or damage in the incident, and it didn't give an exact location where the drone fell.
Zelenskiy marked Statehood Day by reaffirming the country's sovereignty in a speech in Kyiv's St. Michael Square in front of Saint Michael's Golden-Domed Monastery.
"Even after we expel the occupiers from all our lands, we do not believe that Russia will not want to return with aggression," Zelenskiy said.
"But the victory of Ukraine can and should be such that any attempts of the enemy to return do not go beyond the sick fantasy of the madmen who harbor such plans…. Our statehood is our answer to the need for security and peace for Ukraine. Statehood, which is difficult to defend, but more difficult to return if lost," said Zelenskiy, who instituted the Statehood Day holiday two years ago.
Meanwhile, the number of civilian victims caused by Russian shelling continued to grow, as local authorities said that a 48-year-old villager was killed in the southern Mykolayiv region when he stepped on an unexploded cluster bomblet left in a field.
Russian forces have been regularly shelling Mykolayiv with different types of munitions, including cluster bombs, which have been prohibited by most countries, but not by Russia and Ukraine.
In the eastern region of Donetsk, one civilian was killed and three others were wounded in Avdiyivka by Russian shelling over the past day, Donetsk regional Governor Pavlo Kyrylenko said on July 28 on Telegram.
On the battlefield, Ukrainian troops have been engaged in heavy fighting in several areas of the front as Kyiv's counteroffensive appears to be ramping up in the southern region of Zaporizhzhya after months of slow progress, military officials said.
Ukrainian soldiers fought more than 30 close-combat battles over the past 24 hours, managing to block the attempted advance of Russian forces in the Lyman area of Donetsk, where Moscow has been throwing in additional troops over the past weeks, the General Staff of the Ukrainian Armed Forces reported on the morning of July 28.
Ukrainian forces repelled more Russian attacks in the Bakhmut and Avdiyivka areas, the military said, adding that it was continuing its offensive operations in the Melitopol and Berdyansk areas of Zaporizhzhya.
Zelenskiy has acknowledged that progress in the counteroffensive has been slower than desired, though Andriy Kovalev, a spokesman for the General Staff, confirmed on July 27 that Ukrainian troops achieved success in the Staromayorske area of the Donetsk region on the southern front, and Deputy Defense Minister Hanna Malyar also reported that Staromayorske had been liberated.
WATCH: Ukrainian soldier Serhiy Raylyan, 26, lost both his legs and his eyesight after his vehicle drove over a mine in the summer of 2022 near the front line in Ukraine's Donetsk region. He's now starting to walk again with prosthetic limbs and hopes to regain some vision.
The Ukrainian military has given limited information about the state of its counteroffensive in the Russia-occupied southeast, but two U.S. officials told CNN on July 27 that Ukraine was sending more troops and firepower to the area, suggesting that Kyiv has spotted a potential weak spot in Russia's defense there.
Russian President Vladimir Putin on July 27 admitted that the fighting in the Zaporizhzhya region of southeastern Ukraine has "intensified significantly," but claimed that Ukraine's thrust had been unsuccessful.
On the diplomatic front, Japan on July 28 announced that it was expanding its sanctions against Russia to also include a ban on exports of electric vehicles among other categories of goods.
The new punitive measures were approved by Prime Minister Fumio Kishida on July 28 and will go into force on August 9.
Japan has already banned many categories of exports to Russia.
With reporting by Reuters and AFP