World
Transgender Training Is Coming to Your Schools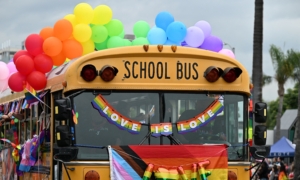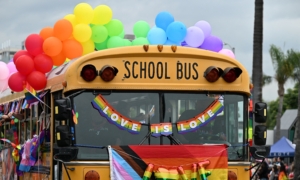 Commentary
More than four years into a controversial tenure, California's Superintendent of Public Instruction Tony Thurmond, and a number of Democratic legislators, have endorsed a number of bizarre ideas to force-feed into our taxpayer-funded public schools.
Mr. Thurmond has promoted "Pride" month and permitted school libraries to stock LGBT books that commonsense folks would deem inappropriate. He has allowed debunked "history" such as "The 1619 Project" and "A People's History of the United States" to be taught in the schools. He has also endorsed tribalistic critical race theory and diversity, equity, and inclusion, as if America isn't already one of the most diverse nations on earth.
These ideas suggest that all ethnic minority students are victims rather than shapers of their own destinies and need special favors to succeed. This obsession with ethnicity and race conveniently ignores that America is a land of systemic opportunity wherein everyone is equal under the law. California leaders constantly gaslight about defending democracy, yet their version of democracy excludes parents and school districts.
According to the Washington Free Beacon, Mr. Thurmond has recently supported a legislative proposal to mandate LGBT training for public school teachers. Organizations such as Human Rights Campaign Foundation and the Trevor Project would create the Orwellian training curriculum.
Supposedly, this training would help teachers "protect" a portion of the diverse student population who might feel marginalized. Has Mr. Thurmond forgotten that the role of education is for students to develop critical thinking skills and learn valuable character traits? Were parents consulted about this ludicrous proposal?
Has Mr. Thurmond ignored the fact that students belong to parents and not the state? Strong-arming students or teachers to confront sensitive sexual topics should not be in the wheelhouse of public education. It's common knowledge that young people don't produce many of these ideas related to preferred pronouns, inter-sex drugs, puberty blockers, and radical surgeries. They are confused enough with the process of growing up and could do without further stimulus overload from authority figures and social media platforms.
Indeed, unscrupulous online influencers promote these off-the-wall pseudo-scientific concepts, because they will never have to endure the mental and spiritual suffering associated with transitioning. These elitists are solely concerned with money and power and have no concern as to how many youngsters are permanently damaged by a process that defies moral and natural law.
Unfortunately, state education officials are attempting to create a wedge between parents and their children by creating top-down edicts that usurp local control in education. These bureaucrats are indoctrinating students instead of encouraging the schools to teach a classical education that focuses on character rather than ethnicity, gender, and race. Since state test scores are underwater, teaching computing, reading, and writing would be a good start, along with the healthy study of biological male and female differences.
Now is the time for parents to keep informed, seize the bullhorn and demand that public schools stop wasting their tax dollars on oddball courses that coddle students and fail to prepare them for the real world. Exacting standards in STEAM subjects, objective history, and literature need to be restored so that students can learn how to become productive citizens that love their country and want to make it better. Terminating gender-neutral bathrooms and locker rooms should also be on the checklist of a sound education.
Fortunately, there are several examples of positive stories in California's education environment. The number of charter, private, and religious schools are increasing across the landscape. According to the Orange County Register, the Placentia-Yorba Linda USD is discussing a plan to start the first charter school in the district in time for the 2024-25 school year.
It would be called the California Republic Leadership Academy (CRLA), which already has a charter of the same name that will begin operation next month in San Juan Capistrano. Another charter, the Orange County Classical Academy is also good news for parents who favor school choice and school competition.
Some charters offer an education similar to the traditional education that has been offered by Hillsdale College since 1843. Others utilize the Franklin Covey model of successful habits that develop character driven citizens who are responsible leaders. CRLA would not allow cellphones, and students are inspired to carry out what is known as "virtuous reading." This consists of informal or pleasure reading outside of school assignments, which encourages lifelong learning.
Finally, one would hope that with all the problems plaguing the public schools, state leaders would focus on a rigorous traditional education, but many appear to be tone deaf. They oppose competition in education and are beholden to union power brokers. They have given in to the woke apparatus, but their wokeness is sleepwalking toward Marxist socialism.
Views expressed in this article are the opinions of the author and do not necessarily reflect the views of The Epoch Times.