World
Tim Scott Rebukes Ron DeSantis Over Florida's Slavery Curriculum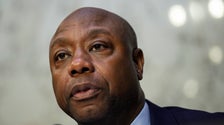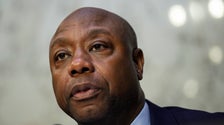 Sen. Tim Scott (R-S.C.) called out fellow 2024 GOP presidential contender Ron DeSantis over his state's controversial slavery curriculum, which says that students should be taught that enslaved people developed skills for personal benefit.
"There is no silver lining in slavery. The truth is anything you could learn, any benefits that people suggest be had from slavery, you would have had as a free person," Scott, the only Black Republican in the Senate, told reporters on Thursday at a campaign stop in Iowa.
The curriculum has drawn sharp criticism from civil rights groups and prominent Black politicians from both parties, including Vice President Kamala Harris; former Rep. Will Hurd, who is also running in the 2024 GOP race; and conservative Florida Rep. Byron Donalds.
DeSantis claimed the standards are being misconstrued in a testy exchange with a reporter earlier on Thursday, saying it is "not what the curriculum says," without elaborating further.
The Florida governor also took a swing at Donalds, a rising star in the GOP who has endorsed former President Donald Trump's 2024 campaign, accusing him of siding with Harris and other Democrats. "Are you going to side with Kamala Harris and liberal media outlets, or are you going to side with the state of Florida?" DeSantis said.
Scott, who often speaks about his family's journey from Jim Crow-era cotton fields in South Carolina to the U.S. Congress, suggested on Thursday that DeSantis clarify his position.
"Slavery was really about separating families, about mutilating humans, and even raping their wives. It was just devastating, so I would hope that every person in our country, and certainly running for president, would appreciate that," Scott said.
He added: "People have bad days. Sometimes they regret what they say, and we should ask them again to clarify their positions."
Harris also tore into the Florida educational standards last week during a last-minute trip to DeSantis' backyard of Jacksonville.
"They want to replace history with lies," Harris said. "They insult us in an attempt to gaslight us, and we will not have it."