World
Taliban makeover: Afghan women despair over beauty parlour ban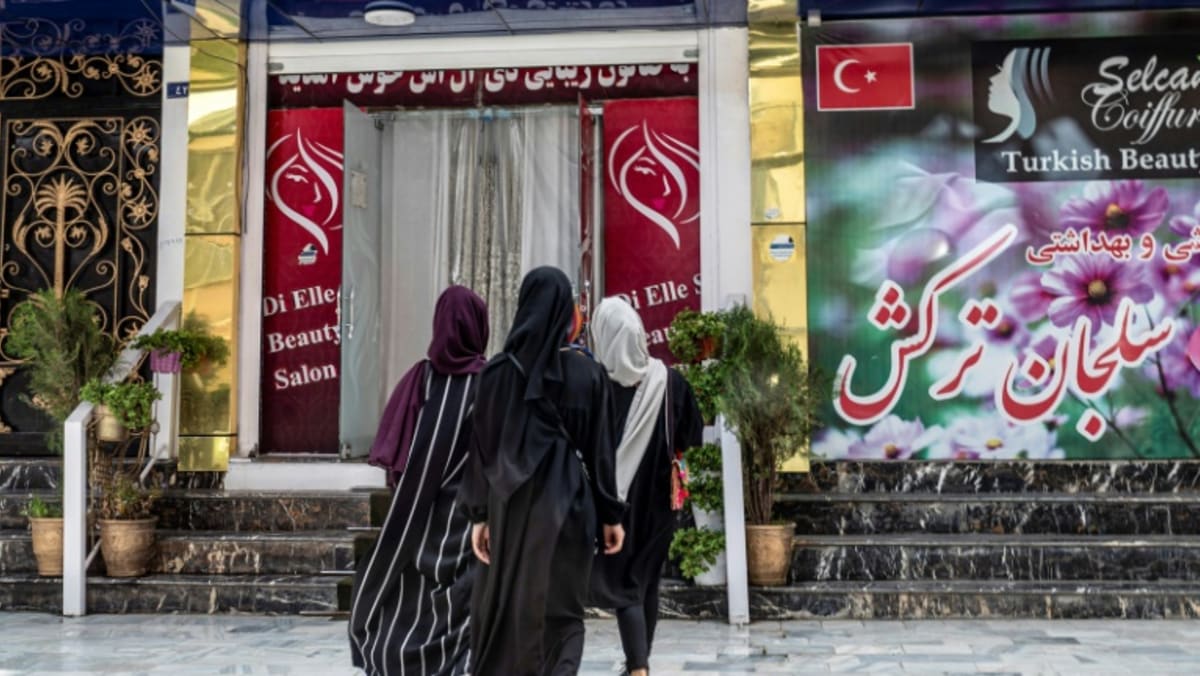 KABUL: Shirin booked her bridal makeover weeks ago, but instead of relaxing as beauticians pampered her, everyone in the Kabul salon was on edge, ready to hide the bride should the police appear.
Shirin was the last customer at a salon in Afghanistan's capital, one of thousands across the country shuttered on Tuesday (Jul 25) by order of Taliban authorities.
"I have someone on watch outside in case the Taliban arrive. If something happens, we'll put her in the bathroom or store room and look busy packing," salon owner Aziza said.
"Even if they put me in prison, I will do her makeover because I promised her."
As some beauticians fluttered around Shirin, others were busy packing up the salon.
Like tens of thousands of other parlour employees, they have been pushed from one of the last remaining areas of work open to women under the Taliban government.
The ban on beauty parlours is the latest blow not only to women's earning capabilities – with salon owners and worker salaries often the only source of income for households – but also to their social lives.
"We were heartbroken when we heard salons were closing because they were places where we not only took care of our appearance, but we could see friends and make new ones, chat and ease our sorrows," said 21-year-old Bahara, a salon customer in Kabul.
"Women are not allowed to enter entertainment places, so what can we do? Where can we go to enjoy ourselves? Where can we gather to meet each other?"
Since sweeping back to power in August 2021, Taliban authorities have banned girls and women from attending high school and university, barred them from visiting parks, fun-fairs and gyms, and have ordered them to cover up in public.
Women have also been mostly blocked from working for the United Nations or NGOs, with thousands sacked from government jobs or being paid to stay at home.
ALL DOORS CLOSED
Kamela started working in a salon a year ago when she lost her media job and was no longer able to continue her education. As the sole breadwinner for her family of five, the 19-year-old doesn't know what she'll do without her beauty parlour paycheck.
"Closing beauty salons means all doors are closed to me, which means I cannot work and live as a woman in Afghanistan," she told AFP this week, braiding the long black hair of one of the salon's last clients.
"Maybe tomorrow the Taliban will say that women are not allowed to breathe."
Manizha, 28, poured time and money into growing her own salon since 2018, training some 200 women to work in the industry and also become "self-sufficient".
Now her current 25 employees, all the main earners in their families, are back to square one, and Manizha must watch as her efforts go to waste.
"I worked so hard and now my achievement is reduced to nothing," she told AFP.
"I stayed in the country and paid tax to the government, and now they are closing down our beauty salon. It is such a shame, this is a huge blow to the country's economy and to us."
In the weeks before the ban went into effect, women rushed to salons to have their hair dyed and eyebrows shaped – their last chance to do something for themselves.
The Ministry for the Promotion of Virtue and Prevention of Vice claimed extravagant sums spent on makeovers caused hardship for poor families and some treatments – such as eyelash extensions and hair weaving – were un-Islamic.
But beautician Najla felt the work was a good, ethical living.
"I was doing a good job, I was able to get a bit of bread to take home. What will I do now?" said the orphan, who looks after her siblings.
"What do they actually want from us? They have closed all the places to women. Maybe one day they'll just say, 'Whenever a girl is born, bury her alive'."