World
Sinéad O'Connor's artistry and activism can't be separated, emotional memorial rally told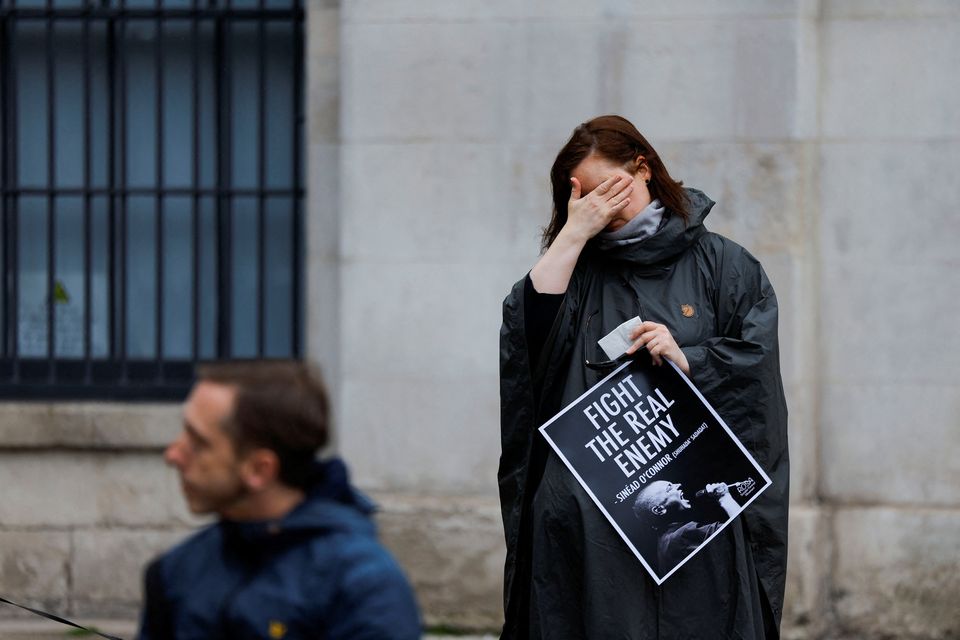 Scores of people gathered at Barnardo Square on Dublin's Dame Street today to remember and celebrate the singer as a brave and influential activist as well as being an artist.
The event, organised by the ROSA Socialist Feminist Movement, was an emotional one, with some participants shedding tears as the crowd sang along to her huge hit Nothing Compares 2U.
Socialist activist Ruth Coppinger described O'Connor as a woman with an exceptional and unique voice that could be both a whisper or a scream in one line.
"But Sinéad's artistry and activism cannot be separated, they were essential to each other. Poverty, war, institutional and interpersonal abuse, misogyny, racism, homophobia, transphobia — Sinéad touched on them all and was vilified for doing so," she said.
"She wasn't fearless. She felt the fear but did it anyway. From hanging a baby-grow out of her jeans at the Grammys, to shaving her head, she refused to bow to record company expectations of what a female musician should be."
Ms Coppinger added: "Some of today's pop stars are billionaires, with clothing lines made in sweatshops. Sinéad paid dearly for her principles, but it was a price she was prepared to pay, to be a protest singer rather than pop star. She withstood the furore, from refusing to have the US national anthem played at gigs as the US war machine raged in the Middle East. And, of course, we all know the commercial price she paid for the tearing up of the picture of the Pope over the Vatican cover-up of abuse."
Ms Coppinger said there are huge questions to be answered about how O'Connor was treated, and said the "utterly misogynistic media" worldwide stands indicted. "They ridiculed Sinéad for profit and clickbait. The Irish State still holds the church in awe, the church got bargain basement reparations and still run our schools and hospitals. They consider €5,000 adequate compensation for mothers incarcerated in the homes Sinéad knew of — the same amount spent on flip-flops by RTÉ for having your life ruined," she said.
In a symbolic homage to O'Connor tearing up a photograph of the Pope, members of ROSA tore up printouts of newspaper articles which were disparaging to the artist.
In the crowd was prominently bald-headed Karen Dempsey, who runs an organisation called Entheos Ireland, a non-denominational religious body which holds inclusive nondenominational ceremonies for everybody of all faiths and none.
"I'm here today because I've always been a huge, passionate fan and advocate of Sinéad. I have always just admired her so much for what she translates from the work that she did on the stage and through our radios and in her music," she said.
"All that she did was such a powerful statement for everybody who was beginning to grow up through the grassroots activism that we've had over the past few decades in Ireland. She has been ahead of the game and always ahead of the curve. Every revolution, every referendum that we had, every step forward that we made, she was way way ahead of us. And she got so demonised for it, she suffered for it."
Ms Dempsey added: "Still, she never ever backed down from what she believed to be true. And I think there's so much that we need to learn from all Sinéad's revolutionary work around spirituality in this country, and inclusivity, and welcoming refugees, while she also battled with her own mental health struggles."