World
Scorching heat wave bakes US | The Express Tribune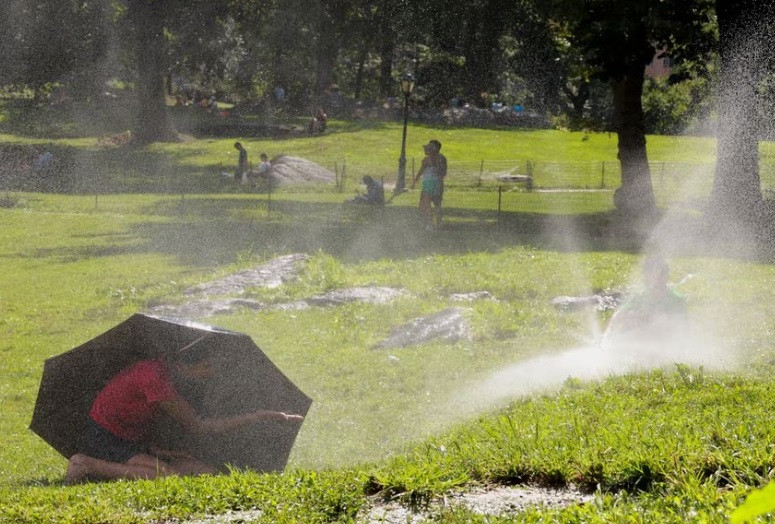 Tens of millions of Americans were confronted with a one-two punch of brutally hot temperatures and oppressive humidity on Friday as an unrelenting heat wave settled over the Midwest and East Coast and was expected to persist into the weekend.
More than 175 million people in the U.S. were under excessive heat warnings and advisories until at least Saturday afternoon as midday heat index readings in many spots rose well above 100 degrees Fahrenheit (38 C), the National Weather Service (NWS) said.
Some of the nation's biggest cities, including Chicago, New York and Philadelphia, have opened cooling centers in public libraries and community centers for those who are unable to escape the hot temperatures.
"Extreme heat can be dangerous to health, and even fatal," the city of Boston said on its website after it declared a heat emergency, adding that its street outreach teams will provide water on their routes.
U.S. city officials and forecasters are urging people to stay out of the hot weather as it has the potential to cause heat-related illnesses, especially for those working or participating in outdoor activities, people aged 65 and older, children and those with chronic illnesses.
"Drink plenty of fluids, stay in an air-conditioned room, stay out of the sun, and check up on relatives and neighbors," the NWS said.
In Philadelphia, where the heat index could top out at 108 degrees F (42 C), officials extended public pool and spray grounds hours on Friday and Saturday.
In New York City, where the heat index was to reach 103 degrees F (39 C), officials posted a public service announcement video on social media urging owners to keep their pets well hydrated.
"It's very hot outside. Extreme heat like this can be dangerous. We have to be very strategic in how we combat this," said New York City Deputy Mayor Philip Banks during a public safety briefing on Friday, telling residents to check on neighbors and loved ones.
Electric grid operators across the nation declared hot weather alerts this week and told energy companies to put off unnecessary maintenance. Despite the extreme heat, however, no U.S. grid operators had taken more extreme actions.
The growing frequency and intensity of severe weather is symptomatic of global, human-driven climate change that is fueling extremes, experts in the field say, with heat waves in much of the world expected to persist through August.
Last month was the hottest June on record in the United States, dating back to 1850. It also was the 47th consecutive June and the 532nd consecutive month with temperatures above the 20th-century average, according to the weather service.
The hot weather through much of the U.S. is expected to dissipated by late Saturday, leaving behind chances of thunderstorms and mild temperatures into next week, the weather service said.