World
Russia hits Ukraine's grain for 4th day, practises seizing ships | The Express Tribune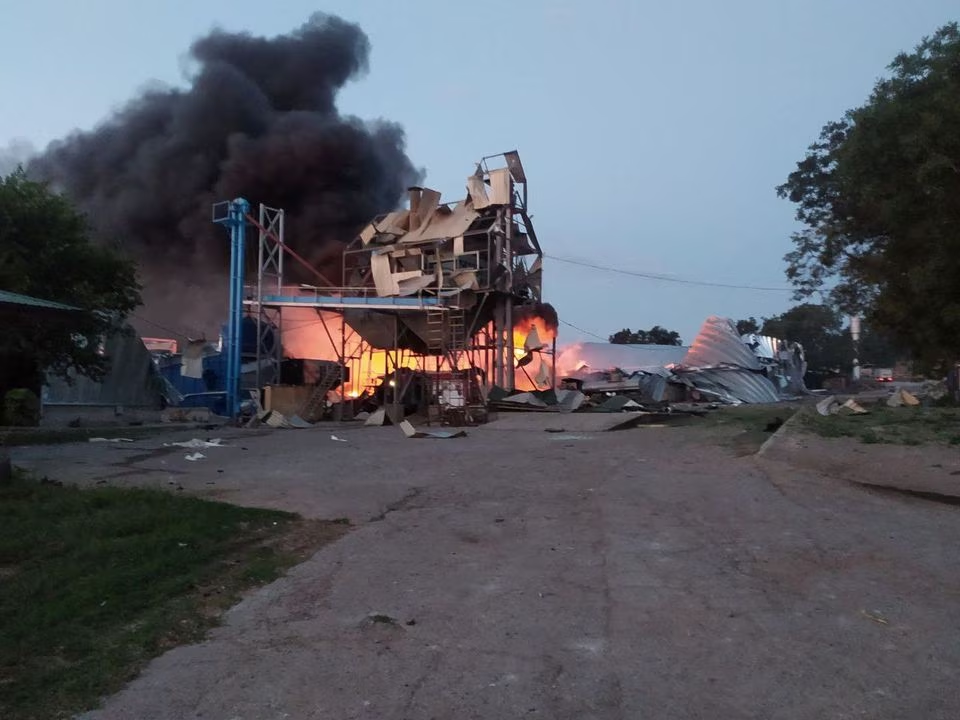 KYIV:

Russia pounded Ukrainian food export facilities for a fourth day in a row on Friday and practised seizing ships in the Black Sea in an escalation of what Western leaders say is an attempt to wriggle out of sanctions by threatening a global food crisis.
The direct attacks on Ukraine's grain, a key part of the global food chain, followed a vow by Kyiv to defy Russia's naval blockade on its grain export ports following Moscow's withdrawal this week from a UN-brokered safe sea corridor agreement.
"Unfortunately, the grain terminals of an agricultural enterprise in Odesa region were hit. The enemy destroyed 100 tons of peas and 20 tons of barley," regional governor Oleh Kiper said on the Telegram messaging app.
Photographs released by the emergencies ministry showed a fire burning among crumpled metal buildings that appeared to be storehouses, and a badly damaged fire-fighting vehicle. Two people were injured, he said, while officials reported seven people killed in Russian air strikes elsewhere in Ukraine.
Moscow has described the attacks as revenge for a Ukrainian strike on a Russian-built bridge to Crimea – the Ukrainian Black Sea peninsula seized by Moscow in 2014.
Read more: Putin says Russia will use cluster bombs in Ukraine if it has to
Russia has said it would deem all ships heading for Ukrainian waters to be potentially carrying weapons, in what Washington called a signal it might attack civilian shipping. Kyiv responded by issuing a similar warning about ships headed to Russia.
Russia's defence ministry on Friday said its Black Sea fleet had practised firing rockets at "floating targets" and apprehending ships. Moscow's ambassador to Washington denied any plan to attack ships.
The attacks on grain export infrastructure and perceived threat to shipping drove up prices of benchmark Chicago wheat futures on Friday towards their biggest weekly gain since the February 2022 invasion, as traders worried about supply.
The UN Security Council was due to meet later over the "humanitarian consequences" of Russia's withdrawal from the safe corridor deal, which aid groups say is vital to fend off hunger in poor countries.
Turkish President Tayyip Erdogan, the deal's sponsor alongside the UN, said he hoped planned talks with Russian President Vladimir Putin could lead to the restoration of the initiative.
The end of the deal could lead to rising global food prices, scarcity in some regions and potentially new waves of migration, Erdogan told reporters on a flight back from a trip to Gulf countries and northern Cyprus.
The West should listen to some of Russia's demands, he said. "We are aware that President Putin also has certain expectations from Western countries, and it is crucial for these countries to take action in this regard."
Moscow says it will not participate in the year-old grain deal without better terms for its own food and fertiliser sales.
Western leaders have accused Russia of seeking to loosen sanctions imposed over its invasion of Ukraine, which already exempt exports of Russian food. Russian grain has moved freely through the Black Sea to market throughout the conflict and traders say Russia is pouring wheat onto the market.
Wagner near Poland border
A Polish broadcaster reported on Friday that a military reconnaissance drone of unspecified origins had crashed near a base in southwestern Poland earlier this week.
Also read: Ukraine's Kharlan keen to fence against Russians
NATO-member Poland has been reinforcing its border with Belarus, where Russia's Wagner mercenary force has taken up residency after a failed mutiny last month. Germany said the alliance was prepared to help Poland defend its eastern flank.
Belarus has said Wagner fighters are now training its troops near the Polish border. Residents in Poland near the border said on Thursday they could hear shooting and helicopters.
In Russia, investigators detained prominent nationalist Igor Girkin, a former commander of Russia's proxy forces in Ukraine, who had publicly accused Putin and army chiefs of not prosecuting the war in Ukraine harshly or effectively enough.
"This is a direct outcome of Prigozhin's mutiny: the army's command now wields greater political leverage to quash its opponents in the public sphere," Tatiana Stanovaya, founder of the R.Politik analysis firm, said.
Inside Ukraine, four people were killed in 80 Russian attacks on settlements in the southern Zaporizhzhia region over the past 24 hours, regional governor Yuriy Malashko said.
A married couple in their fifties were killed early on Friday in Russian shelling of the city of Kostiantynivka in the eastern region of Donetsk, the general prosecutor's office said.
In the northern region of Chernihiv, near the border with Russia, a woman's body was pulled from the rubble of a cultural building after a missile strike, regional governor Viacheslav Chaus said.
Russia had already used almost 70 missiles and almost 90 Iranian-made drones to attack so far this week, mostly targeting Odesa and other southern regions, Ukrainian President Volodymyr Zelenskiy said in his nightly video address.
Many of those strikes are far from the heavy fighting along the front line across southern and eastern Ukraine, which Kyiv is trying to breach to push out occupying Russian forces.
Putin said the West was stoking the "flames of war" by supporting Ukraine, and that Western weapons supplied to Ukraine "burn well" on the battlefield. Ukraine says its counteroffensive is making slow but steady progress.
Russia sent tens of thousands of troops into Ukraine last year and claims to have annexed nearly a fifth of its territory. Moscow says it is responding to threats posed by its neighbour; Kyiv and the West call it an unprovoked war of conquest.