World
Russia accuses Ukraine of new drone attack on Moscow | The Express Tribune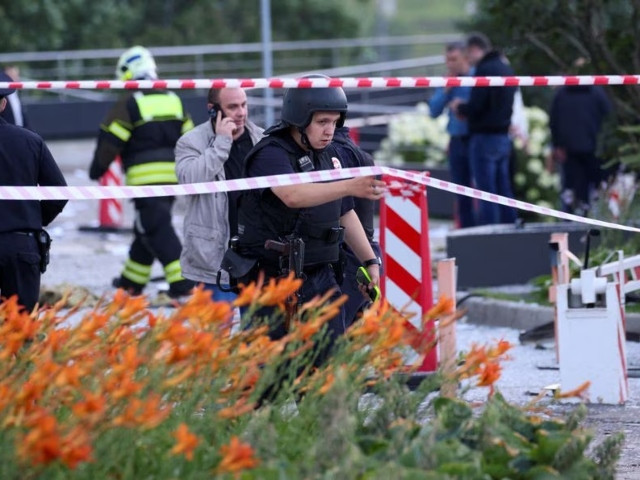 MOSCOW:

Russia's Defence Ministry said it had brought down three Ukrainian drones early on Sunday that had been trying to attack Moscow.
Nobody was hurt and there was only minor damage to the facade of two office buildings in the Moskva-Citi business district, Moscow Mayor Sergei Sobyanin said.
The area, several miles from the Kremlin, is known for its modern high-rise towers and one of the buildings damaged was home to three Russian government ministries as well as residential apartments, Russian media reported.
The fact that hostile drones have begun reaching the heart of the Russian capital in recent months, even if they do not inflict serious damage, is uncomfortable for the authorities who have told the public that Russia is in full control of what they call its "special military operation" against Ukraine.
The incident followed what Russia said was a similar Ukrainian attempt to attack Moscow with two drones last Monday, one of which was brought down close to the headquarters of the defence ministry. It spoke at the time of taking harsh retaliatory measures against Ukraine.
Ukrainian Deputy Prime Minister Mykhailo Fedorov said after Monday's attempted attack that there would be more drone strikes. There was no immediate reaction from Kyiv to the latest incident.
"There were no casualties or injuries," Sobyanin, the mayor, said in a short statement on the incident.
Flights to and from Moscow's Vnukovo airport were briefly suspended due to the incident, the TASS news agency reported.
The Defence Ministry said two drones had crashed in the Moskva-Citi district after being brought down using radio-electronic equipment. Air defences had shot down one more in the air over the Odintsovo area in the Moscow region, it said.
"On the morning of 30th July, an attempted terrorist attack by the Kyiv regime using unmanned aerial vehicles against targets in the city of Moscow was foiled," the ministry said in its statement.
Separately, it said it had also successfully thwarted an overnight attack on the Black Sea peninsula of Crimea, which Russia annexed from Ukraine in 2014, by 25 Ukrainian drones which it said it had either shot down or forced to crash. Nobody had been hurt and no damage done in the Crimea episode, it said.
Glass and debris
A young woman who gave her name only as Liya described the Moscow incident. "My friends and I rented an apartment to come here and unwind, and at some point, we heard an explosion and it was like a wave, everyone jumped," she told Reuters.
"And then there was a lot of smoke and you couldn't see anything. From above, you could see fire."
Some glass panels in one high-rise building were blown out and glass and debris littered part of the pavement below, according to a Reuters reporter on the scene, which had been cordoned off by police and emergency services.
Two drones reached the Kremlin in May in the most high-profile incident of its kind.