World
Ron DeSantis Admits Even Opponents Of 'Wokeness' Can't Define It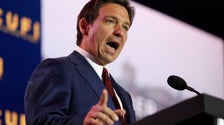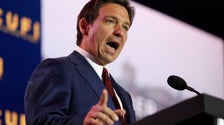 Florida Gov. Ron DeSantis (R) released a new plan on Tuesday to "rip wokeness from the military" to juice enlistment. But when confronted with data suggesting that wokeness isn't a major factor keeping Americans from joining the armed forces, the presidential candidate claimed that most opponents of "wokeness" can't actually define the term.
"Not everyone really knows what wokeness is," DeSantis told CNN host Jake Tapper after Tapper told him that "wokeness" placed well below the most common reasons people have for not enlisting, which include the fear of dying or suffering from post-traumatic stress disorder. "I mean, I've defined it, but a lot of people who rail against wokeness can't even define it."
DeSantis made the comments during his first taped sit-down interview with a mainstream news outlet, an effort to broaden his base of support in his stalled presidential bid against former President Donald Trump.
The 15-minute exclusive with CNN was preempted by the news that Trump is expecting his third criminal indictment, this one related to the special counsel probe into the Jan. 6, 2021, Capitol attack, according to a post that Trump shared Tuesday afternoon on Truth Social.
DeSantis didn't take the news as an opportunity to attack Trump — instead, he defended him.
"This country is going down the road of criminalizing political differences, and I think that's wrong," DeSantis said before describing earlier charges brought against Trump by Manhattan District Attorney Alvin Bragg as flimsy and politically motivated.
"Alvin Bragg stretched the statue in Manhattan to be able to try to target Donald Trump. Most people, even people on the left, acknowledge if that wasn't Trump, that case would not have likely been brought against a normal civilian," DeSantis said.
Trump has not been as reluctant to go after DeSantis. Earlier this month, he derided the Florida governor for overusing the word "woke" to describe liberal ideology. "Half the people can't even define it," Trump said in Iowa.
DeSantis later defined "woke" to an NBC journalist as "a form of cultural Marxism" that's about "putting merit and achievement behind identity politics, and it's basically a war on the truth."
Earlier in the day in South Carolina, DeSantis had rolled out a five-point military plan that would bar transgender members from serving in line with their gender identities. The plan would also do away with diversity and inclusion programs and courses that teach "critical race theory," causes that DeSantis has promoted as governor and that he blames for slowing down military recruiting.
"People want to join the military because they think it's something different," he said on CNN, "and I think some of the civilian leaders in the military are trying to have the military mimic corporate America, academia. That's ultimately not going to work."