World
Republicans want to let people hunt grizzly bears after woman attacked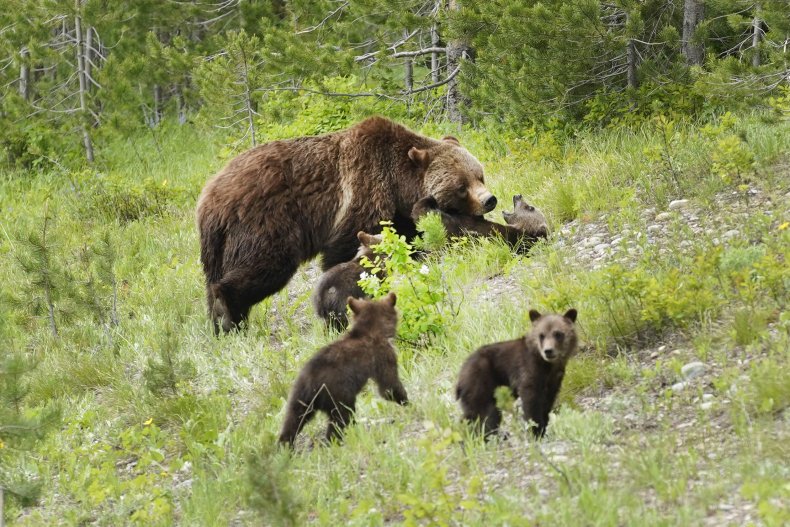 After a woman was killed in an apparent grizzly bear attack in Montana over the weekend, two state Republicans are calling for grizzlies to be removed as a protected species under the U.S. Endangered Species Act (ESA).
With less than 2,000 grizzlies across the 48 contiguous states, the grizzly bear is considered a "threatened species" and protected under the ESA, according to the U.S. Fish and Wildlife Service (FWS). It is illegal to "harm, harass or kill" these bears, except in cases of self-defense or the defense of others, FWS notes on its website.
A female hiker was killed "in an encounter with a bear" on Saturday on the Buttermilk Trail near the town of West Yellowstone, Montana, officials with the Montana Fish, Wildlife & Parks (MFWP) confirmed in a statement Monday shared on Facebook. FWP wardens and bear specialists determined that the woman had "wounds consistent with a bear attack."
"They also found tracks from an adult grizzly bear and at least one cub near the site," FWP said.
The suspected grizzly attack reignited calls to "delist" and remove federal protections for grizzlies in certain parts of the U.S.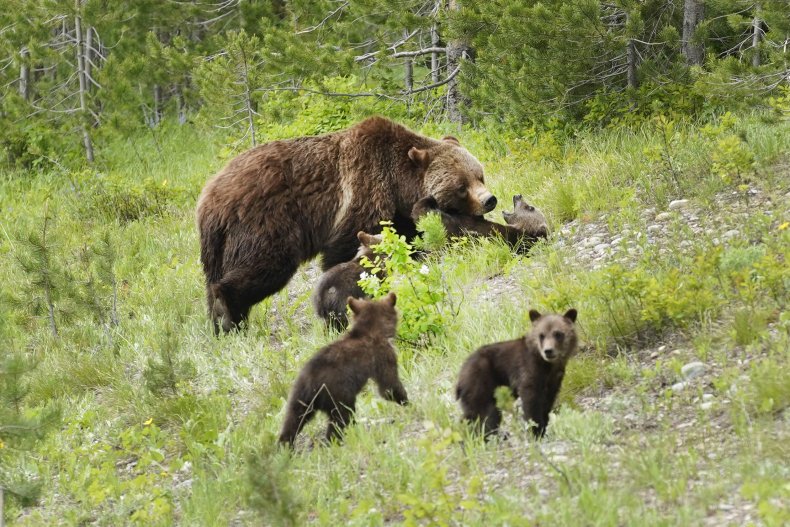 While the National Park Services says on its website that "the chances of being injured by a grizzly bear are approximately 1 in 2.7 million," it notes that the risk is higher for anyone hiking in the backcountry.
Grizzlies, which can weigh as much as 600 pounds, can be found in the U.S. in Montana, Idaho and Wyoming in addition to Alaska, where they are most common. Grizzly attacks on campers and hikers as well as livestock have sparked efforts in recent years to remove federal protections for the animals, as supporters of hunting the "threatened species" say the population has recovered enough. Proponents of delisting the grizzly bear say the animals have started to become a threat to humans and livestock in parts of the country.
However, efforts to allow grizzly hunting have either failed or stalled.
FWS said in an online statement in February that state officials in Montana, Wyoming and Idaho had provided "substantial" information that the grizzly population has recovered from the threat of extinction in the areas surrounding Yellowstone and Glacier national parks, possibly warranting removal from the list of threatened and endangered animals. However, federal officials are conducting a "comprehensive status review" before making a decision on delisting the grizzly.
Representative Matt Rosendale, who introduced a measure in March in the U.S. House of Representatives to remove the Northern Continental Divide population of grizzly bears from the ESA, called on Congress to act on his bill.
He said on Twitter that Saturday's attack is an example of why grizzly bear "management" needs to return to the people.
"Tragedies like this are preventable," the Montana Republican said on Twitter on Monday. "The grizzly bear has exceeded set recovery targets. It's time for Congress to pass my bill to delist the grizzly bear and return management to Montanans."
Newsweek reached out via email on Monday to Rosendale's spokesperson and via Facebook to MFWP for comment.
Another Montana Republican, U.S. Senator Steve Daines, echoed Rosendale's calls to delist the grizzly. Daines introduced a Senate bill urging delisting of the grizzly back in 2021. The senator said removing federal protections is the "most compassionate solution."
"Heartbreaking to hear of yet another fatal bear attack in MT," Daines said on Twitter. "My condolences are with the friends & family of the victim. As bear populations in MT continue to rise the safest, most compassionate solution is to hand management back to the State. It's time to delist the grizzly."