World
Rep. Cori Bush Calls to Defund Police but Pays Husband for 'Security Services'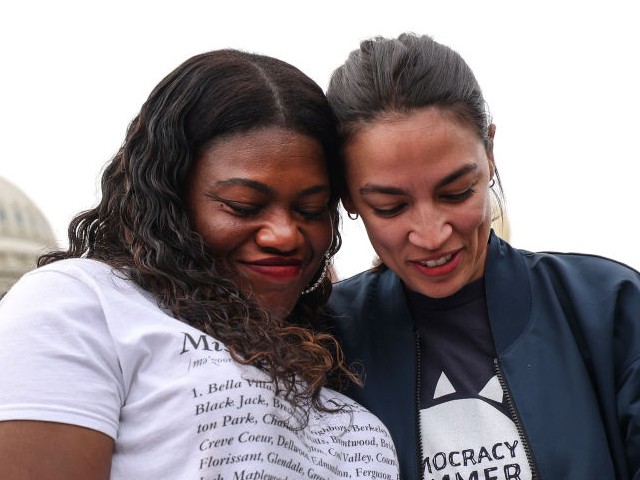 Rep. Cori Bush (D-MO) has paid her husband $30,000 for the first half of this year for private security services, according to her campaign's second quarter report, which was filed a week past the deadline.
Between April and June, Bush paid her husband Cortney Merritts $17,500 in wage expenses for his "security services," Fox News Digital reported. He received $12,000 for his services rendered in the first quarter of this year. Merritts has been working private security for Bush since January 2022, however, he did not receive his private security license — a requirement to perform private security in St. Louis city, covering all of Bush's congressional territory — until February of this year.
Bush married Cortney Merritts, a U.S. Army veteran, in February, Breitbart News reported. Last year, Merritts received a salary of $60,000 from Bush's campaign.
Since 2019, the congresswoman has spent over half a million dollars on private security in spite of her calls to "defund the police."
Fox News first brought to light Bush's hypocrisy in 2021 after uncovering her financial transactions. When interviewed on CBS News, Bush doubled down on her stance to defund the police, and in the same breath, said it was necessary for her to have protection after reporting attempts on her life.
"So suck it up, and defunding the police has to happen," Bush said.
While Rep. Bush spouts off extreme disapproval of the police, she hired two St. Louis sheriff's deputies for her private security, according to reporting by KMOV. Since then, the officers have been terminated.
Watch: Cori Bush Defends Calls to Defund the Police: "We Can't Get Caught Up in Words"
She has contracted most of her security services from PEACE Security — which employs individuals with military and law enforcement backgrounds. In addition, Bush found safety in psychic tornado summoner Nathaniel Davis, paying him $27,500 for his security for the first half of this year.
News of Bush's hypocritical and shady security dealings comes months after financial reports revealed Black Lives Matter was headed toward financial insolvency, on account of the organization paying board members and family members, Breitbart News reported. Cofounder Patrisse Cullors's brother received $1.6 million in payments to his two companies for "security services."