World
Putin Says 'Armed Conflict' With Ukraine Justifies Crackdown On Dissent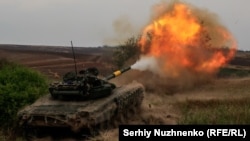 Ukrainian President Volodymyr Zelenskiy has visited the front line near the embattled eastern city of Bakhmut as heavy fighting continued in the country's south.
Zelenskiy posted images on social media on July 29 showing him meeting with Ukrainian troops near Bakhmut, a city in the eastern Donetsk region that has been the scene of some of the heaviest fighting of the 17-month war and which Russia seized in May.
"The performance of tasks for the sake of Ukraine by you, guys, is truly heroic," Zelenskiy wrote, praising Ukraine's special forces troops on the occasion of Special Operation Forces Day.
Two people were killed, and another was wounded in the city of Zaporizhzhya on July 29, where a "missile hit an open area," a local official said.
"The shock wave shattered the windows of a very tall building, and damaged an education center and a supermarket," city council official Anatoliy Kurtev wrote on social media.
Ukrainian media outlets published images of what they described as the aftermath of the attack, including the destroyed frontage of a supermarket with empty shelves that had been plunged into darkness by the explosion.
Live Briefing: Russia's Invasion Of Ukraine
RFE/RL's Live Briefing gives you all of the latest developments on Russia's full-scale invasion, Kyiv's counteroffensive, Western military aid, global reaction, and the plight of civilians. For all of RFE/RL's coverage of the war in Ukraine, click here.
The Ukrainian military said that Russian forces had launched "five missiles and carried out 19 air strikes" during the day.
They had fired "multiple rocket launchers 30 times" on Ukrainian positions and inhabited areas, the military added.
Fighting has reportedly intensified in recent days after months of slow progress, with Ukrainian military officials saying that Kyiv was ramping up its counteroffensive with operations in the Zaporizhzhya region.
British intelligence said in an assessment issued on July 29 that over the past 48 hours it had recorded an "uptick of fighting in two sectors of southern Ukraine": Orikhiv, in the Zaporizhzhya region, and 80 kilometers to the east in the Staromayorske area of the Donetsk region.
On July 29, the Ukrainian military said that there were 27 clashes the previous day between Ukrainian forces and Russian troops, with Russian forces carrying out attacks in the eastern Luhansk and Donetsk regions.
The Ukrainian military also said it was continuing to stave off a Russian offensive near Maryinka, in the Donetsk region, and that Russia was concentrating its troops in the Zaporizhzhya and Kherson regions in the south.
Peace Efforts
Saudi Arabia is set to host Ukraine peace talks next month, inviting Western countries, Ukraine, and major developing nations, including India and Brazil, The Wall Street Journal reported on July 29, citing diplomats involved in the discussions.
Senior officials from up to 30 countries, including Indonesia, Egypt, Mexico, Chile, and Zambia have been invited to the meeting in Jeddah on August 5-6, the report said.
It is not clear how many of them will attend. Britain, South Africa, Poland, and the European Union are among those who have confirmed attendance and the U.S. national-security adviser, Jake Sullivan, is expected to attend, the WSJ said. The talks exclude Russia.
The report said Ukraine and Western officials hope that the talks can lead to international backing for peace terms favoring Ukraine. Kyiv says negotiations with Russia would only be possible after Moscow withdraws its troops.
Russia — which claims to have annexed around a sixth of Ukraine — has said it is open to peace talks with Ukraine but that they must take account of these "new realities" on the ground.
Russian President Vladimir Putin said on July 29 that Moscow did not reject talks on Ukraine and that an African peace initiative as well as a Chinese one could be a basis for peace.
He made the comments at a press conference after meeting African leaders in St Petersburg. China's peace plan, published in February, doesn't call for Russia to withdraw from Ukraine. It calls for negotiations and respect for national sovereignty, but doesn't provide specific proposals.
With reporting by Reuters and AFP