World
Pence's Mild Rebuke Of His Coup-Attempting Former Boss Winning Him Few Friends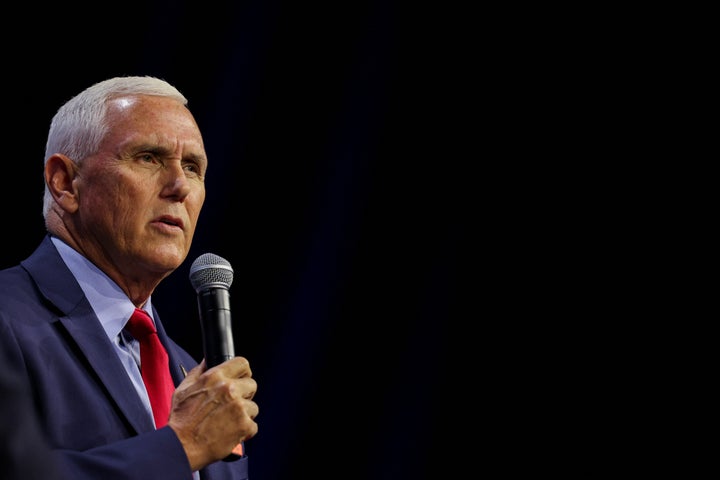 Mike Pence may have saved American democracy on Jan. 6, 2021, from his boss' coup attempt, but Republican primary voters, at least so far, seem less than appreciative.
The former vice president is entering the final weeks before the first scheduled Republican primary debate without the 40,000 donors necessary to make the stage – even as former President Donald Trump, already bearing two criminal indictments and likely on his way to a third and fourth, leads all his rivals by substantial margins in both national and early state polls.
Some candidates are openly pandering to Trump followers by refusing to criticize him, while former New Jersey Gov. Chris Christie has made it his mission to go after Trump as a threat to democracy. Pence has sought a middle ground.
"There is zero appetite for Mike Pence from GOP voters of all stripes," said Sarah Longwell, a Republican consultant who has conducted dozens of focus groups on the 2024 race. "Many think he's a traitor. Some think he was too accommodating of Trump. Many describe him as 'boring' or 'milquetoast.' He has 100% percent name ID and virtually no constituency."
Pence raised just $1.2 million in the three-month period that ended on June 30. And although he'd officially entered the race just weeks earlier, on June 7, candidates running for president have typically spent months leading up to announcement day lining up commitments from donors to ensure a strong showing in the first campaign finance filing.
Florida Gov. Ron DeSantis, for example, who announced his candidacy just two weeks before Pence did, raised $20.1 million in that same reporting period.
In national polling, Pence sits at 5.5% – about half of where he was a year ago and tied for third with biotech entrepreneur Vivek Ramaswamy. In Iowa polls, Pence is at 3.7%, effectively tied for sixth with Christie, who is not even campaigning in that state.
Marc Short, an aide to Pence who served as his chief of staff at the White House, declined to reveal how many donors Pence has so far but said his strategy of emphasizing direct mail over online fundraising was designed to bring in more money, albeit not as quickly. He said Pence had built a list of 130,000 donors to his nonprofit, Advancing American Freedom, over the past two years, but that turning them into campaign donors takes time.
"They don't convert automatically," he said, adding that the campaign expects to have the necessary number of donors to make the Aug. 23 debate. "We have the resources we need, and we're on track."
"He has 100% percent name ID and virtually no constituency."

– Sarah Longwell, Republican consultant
Pence is the only one among the dozen GOP rivals trying to defeat Trump to have nearly died because of Trump's actions leading up to and on Jan. 6, when thousands of his followers attacked the Capitol to stop the ceremonial certification of Trump's defeat to Democrat Joe Biden. Trump had instructed his supporters to march on the building, even claiming he would accompany them, to pressure Pence into awarding Trump a second term notwithstanding his election loss.
When Pence refused to bend to Trump's demands, Trump told his followers through a social media post that Pence had lacked "the courage" to do as he was told, which further inflamed the mob and sent hundreds more swarming into the building, where many chanted "Hang Mike Pence" as they wandered the halls looking for him. Pence barely avoided some of the rioters as his Secret Service detail moved him, his family and his top aides to safety.
Despite this, Pence has been reluctant to criticize Trump for his behavior. At first, he would only say that he and Trump would "never see eye to eye" about that day. Nearly a year later, Pence – after months of Trump's continued lying that the election had been "stolen" from him and that Pence had failed to use his authority to reverse the result – finally said that Trump was "wrong."
Even today, as Christie makes Trump's post-election actions the centerpiece of his campaign, Pence says he does not believe Trump should be indicted for Jan. 6.
"President Trump's words on Jan. 6 were reckless. I thought he endangered my family and everyone in the Capitol on that day. And I believe history will hold him accountable for that," he told reporters recently at The Family Leader's candidate forum in Iowa, where the first votes in the 2024 Republican race will be cast in January. "But as I've also said, I don't know that taking bad advice from crank lawyers is a crime. And frankly, I would rather that this question be given to the American people in the upcoming election."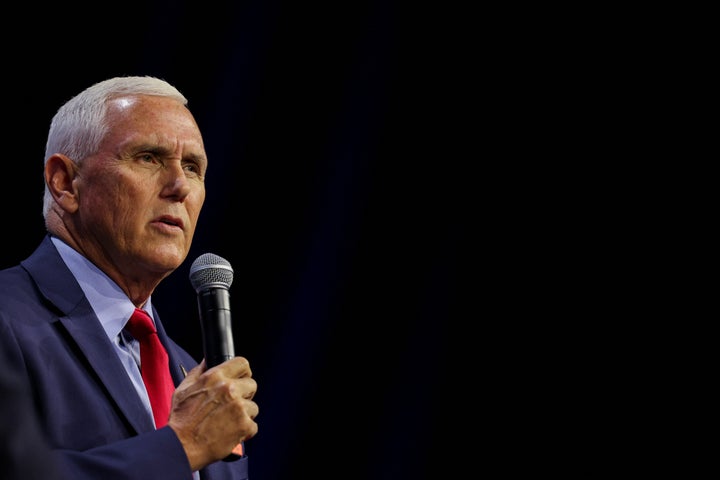 Bob Vander Plaats, head of The Family Leader, an evangelical Christian group, told HuffPost that Pence, himself an evangelical Christian with a long track record on abortion and other issues important to the evangelical community, has the ability to win over like-minded voters in Iowa and other states. He acknowledged, though, that his perceived "disloyalty" to Trump on Jan. 6 was a hurdle.
Vander Plaats added that Trump's oft-repeated claims about a stolen election and his attacks on Pence have worked with a sizable segment of the electorate. "The former president has used his platform to basically disparage his vice president," he said. "That does have an impact."
In any event, Vander Plaats said, polling in Iowa six months away from the caucuses means little, and Pence is in a decent position to benefit from voters as they shop around. "If they don't find what they're looking for, they may gravitate toward someone they trust," he said.
Toward that end, a super PAC run by Pence allies says it has already knocked on nearly a quarter-million doors in Iowa using a staff of 30. The super PAC, Committed to America, is also helping Pence raise money for his campaign. "The PAC is engaged in both mail and digital outreach to help recruit small-dollar grassroots donors for the vice president's campaign," spokesperson Michael Ricci said.
In the end, predicted Erick Erickson, a prominent conservative talk radio host, none of that will much matter. "The Trump people find him too disloyal. The non-Trump people find him too close to Trump," he said.