World
Niger's army command declares support for military coup | The Express Tribune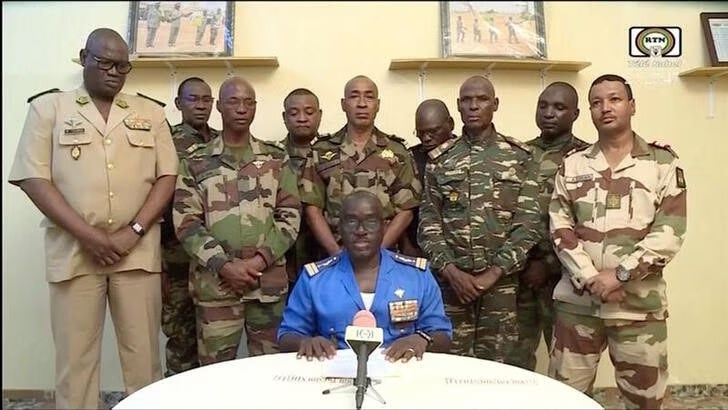 NIAMEY:

Niger's army command on Thursday declared its support for a coup carried out the previous day by soldiers of the presidential guard, saying its priority was to avoid destabilising the country.
Hundreds of supporters of the coup gathered in front of the National Assembly in the capital Niamey, playing pro-army music under an overcast sky left by heavy morning showers.
Some waved Russian flags and chanted anti-French slogans, echoing a growing wave of resentment towards former colonial power France and its influence in the Sahel region.
The army, in a statement signed by its chief of staff, said it had "decided to adhere to the …declaration" made by soldiers who announced in a late-night televised address that they had stripped President Mohamed Bazoum of power.
The army needed to "preserve the physical integrity" of the president and his family and avoid "a deadly confrontation… that could create a bloodbath and affect the security of the population," it added.
Also read THE SHADOWLANDS OF DEMOCRACY
Juntas in neighbouring Mali and Burkina Faso have grown closer to Russia since they took charge, in 2020 and 2022 respectively, and cut ties with traditional Western allies.
Since relations with their military governments soured, prompting foreign troop withdrawals, Niger's role had become increasingly important for Western powers helping fight a violent insurgency in the region. France moved troops to Niger from Mali last year.
Earlier, as Western officials said the status of Niger's coup attempt was unclear, President Bazoum and Foreign Minister Hassoumi Massoudou urged democratic forces in the country to resist the power grab.
It marked the seventh coup in West and Central Africa since 2020.
In separate comments on Thursday, the African Union and Germany condemned the coup and called for Bazoum's release.
The takeover started on Wednesday, when some guards at the presidential palace in Niamey cut it off, blocking the president inside.
The televised statement was read on Wednesday night by a member of the air force named Colonel Amadou Abdramane, who also announced on Thursday that all activities of political parties were suspended until further notice.
Bazoum, in a social media posting on Thursday morning, vowed to protect "hard-won" democratic gains.
Frustrations over state failures to prevent attacks on towns and villages partly spurred two coups in Mali and two in Burkina Faso since 2020.
It was not immediately clear who would take over from Bazoum. The presidential guard is headed by General Omar Tchiani, but Abramane read the televised statement.
Seated in an office rather than in the television studio and flanked by nine other officers in fatigues, Abdramane said defence and security forces had acted in response to deteriorating security and bad governance.
The African Union and West African regional bloc ECOWAS condemned the attempted coup.
The president of neighbouring Benin, Patrice Talon, flew into Niger on Wednesday afternoon to mediate after meeting with Nigerian President and ECOWAS Chairman Bola Tinubu.
It was unclear on Thursday if talks were still ongoing.