World
Morrisey Touts Endorsement of Trump as Reason He's Leading WV Gov. Race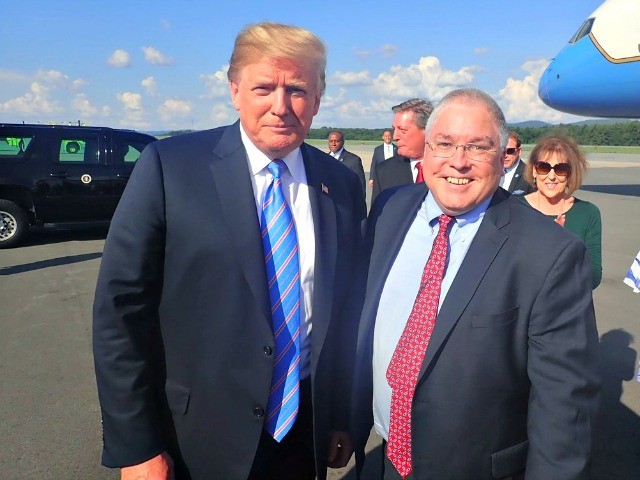 West Virginia gubernatorial candidate Patrick Morrisey on Breitbart News Saturday touted his endorsement of former President Donald Trump's reelection campaign as one of the primary reasons he's leading in the gubernatorial primary.
Morrisey spoke with Breitbart News Saturday host and Breitbart News Washington Bureau Chief Matthew Boyle, as Morrisey hopes to secure the Republican nomination for the state's gubernatorial election to replace the outgoing Gov. Jim Justice (R).
He credited his endorsement of Trump as one reason that he is leading in the race, noting that he is the only candidate in the Republican gubernatorial primary to have endorsed Trump's reelection bid.
President Trump is very popular in West Virginia. Matt, think of this one. One of the reasons why I think we're so strongly positioned to win this race is because I'm the only candidate for governor who's even endorsed Trump. Can you imagine that in a Republican primary?" he asked rhetorically.
"Unbelievable," Boyle remarked.
"So many of these candidates are so afraid of the political elites in the media complex that they won't speak out," Morrisey said.
"We need candidates who are courageous, to step up and call this out for this political prosecution that it is against President Trump and be very clear that we cannot have a two-tiered justice system, in our state, in our country, and we need everyone on the same page on that," Morrisey said, referring to the indictments against Trump.
A recent poll found that Morrisey leads his next primary opponent by double digits, and the same poll found that Trump is up 60 points in West Virginia's Republican primary race.
WATCH: WV AG Patrick Morrisey Endorses Donald Trump in 2024
Morrisey 2024
Breitbart News Saturday airs on SiriusXM Patriot 125 from 10:00 a.m. to 1:00 p.m. Eastern.
Sean Moran is a policy reporter for Breitbart News. Follow him on Twitter @SeanMoran3.