World
Kim Jong Un decorates walls with huge portraits of Putin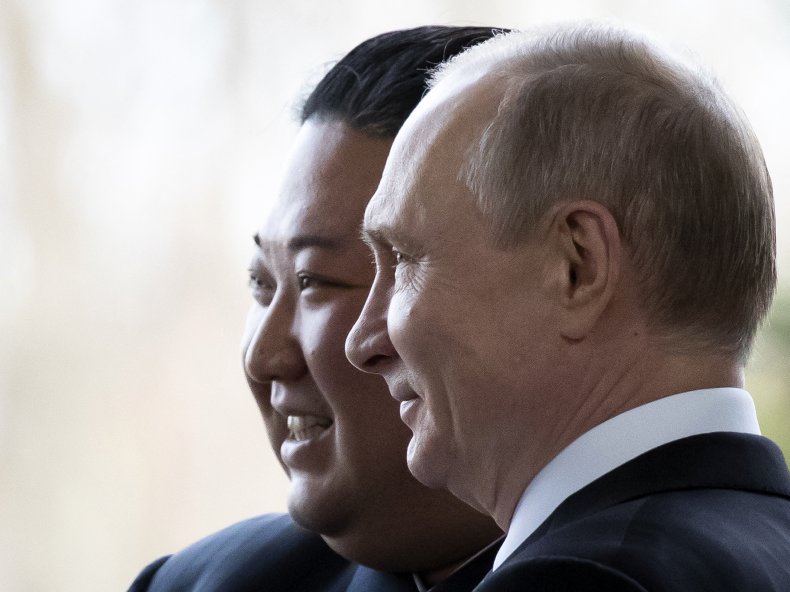 Images posted Friday by North Korean state media show that the country's leader, Kim Jong Un, had large portraits of Russian President Vladimir Putin installed throughout an official building.
The portraits can be seen in photographs of Kim with Russian Defense Minister Sergei Shoigu, who is visiting Pyongyang this week to celebrate the 70th anniversary of the end of the Korean War, which is called "Victory Day" in North Korea.
Max Seddon, the Moscow bureau chief for the Financial Times, noted the presence of the portraits—which are visible in multiple rooms of the building—and created a slideshow that he posted on Twitter.
Though Putin didn't accompany Shoigu to Pyongyang, he sent a letter to Kim that was published by the Korean Central News Agency (KCNA) on Friday.
In the letter, Putin praised the North Korean government's firm support for Russia in the war he launched against Ukraine on February 24, 2022. He also said the nation's "solidarity with Russia on key international issues highlight our common interests…"
Though Putin's message didn't offer specifics about what he meant regarding Kim's support for the war, the United States last year accused North Korea of selling Russia artillery shells and rockets. In a statement to KCNA, North Korea's foreign ministry called claims that it supplied munitions to Russia groundless.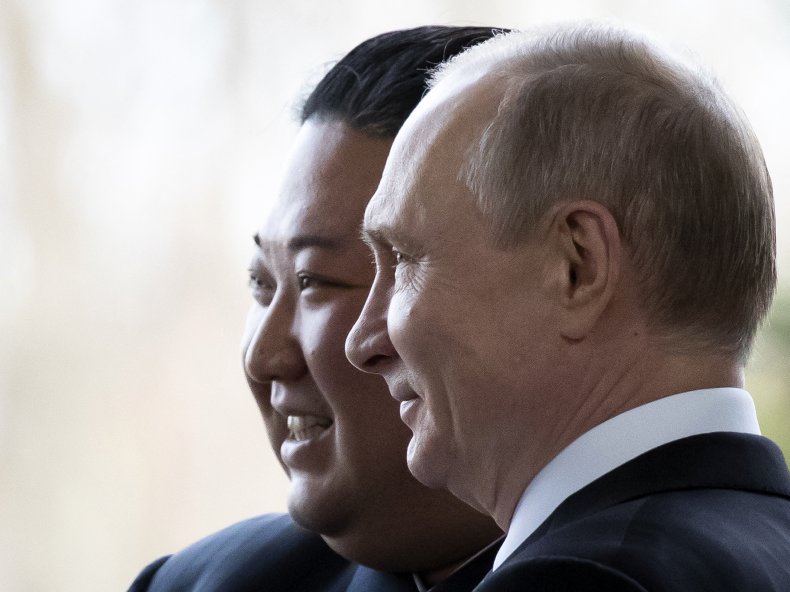 Newsweek reached out to the Russian and North Korean foreign ministries by email for comment.
Prior to Shoigu's arrival in Pyongyang, Russia's defense ministry said in a statement that his trip will help strengthen Russian-North Korean military ties. The visit has garnered international attention, including for Kim showing him a defense exhibition that allegedly included banned ballistic missiles.
Reuters on Thursday reported that Shoigu saw nuclear-capable missiles that are banned under United Nations Security Council resolutions, as well as what appeared to be a new drone. Newsweek has not been able to independently verify the report.
NK News, an independent English-language outlet that covers North Korea, reported that the defense exhibition featured North Korea's largest nuclear missiles like the Hwasong-17 intercontinental ballistic missile (ICBM) and the Hwasong-18 solid-fuel ICBM.
Ankit Panda, a senior fellow in the Nuclear Policy Program at the U.S.-based Carnegie Endowment for International Peace, previously told Newsweek that in a different time, Russia supported the denuclearization of the Korean Peninsula.
"That appears to have given way to courting Pyongyang as a strategic partner," he said. "Kim Jong Un's support for Russia in its illegal war on Ukraine appears to have paid dividends."