World
Images Show More Military Equipment Gathered At 'Wagner Camp' In Belarus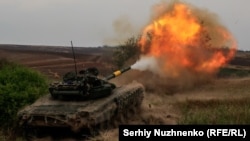 An air-raid alert was declared across most of Ukraine on July 26 in the afternoon as the newly established NATO-Ukraine Council was preparing to discuss Black Sea security at its inaugural meeting in Brussels.
"The air-raid alert was declared in connection with the launching of [Russian] cruise missiles from the eastern direction," Ukrainian air defense said on Telegram.
Live Briefing: Russia's Invasion Of Ukraine
RFE/RL's Live Briefing gives you all of the latest developments on Russia's full-scale invasion, Kyiv's counteroffensive, Western military aid, global reaction, and the plight of civilians. For all of RFE/RL's coverage of the war in Ukraine, click here.
The NATO-Ukraine Council is meeting in Brussels at ambassador-level following Russia's refusal to extend a grain-export deal and Moscow's intensive strikes on Ukraine's grain-export installations in the Black Sea port of Odesa and the Danube.
The council, launched at a NATO summit in Lithuania earlier this month, is a forum meant to deepen ties with Ukraine and intended to serve as a permanent body where Kyiv and the alliance's members can hold consultations and call for meetings in emergency situations.
The meeting also comes amid a warning by Britain's Defense Ministry on July 26 that Russia may be preparing a blockade of Ukraine in the Black Sea.
"Russia's Black Sea Fleet has altered its posture since Russia pulled out of the Black Sea Grain Initiative, in preparedness to enforce a blockade on Ukraine," the ministry said in its daily intelligence update.
"The modern corvette Sergei Kotov has deployed to the southern Black Sea, patrolling the shipping lane between the Bosphorus and Odesa. There is a realistic possibility that it will form part of a task group to intercept commercial vessels Russia believes are heading to Ukraine," it said.
Ukrainian President Volodymyr Zelenskiy, meanwhile, said the first meeting of the NATO-Ukraine Council should focus on the security of Ukrainian ports and grain exports.
"The world knows that the security of our Black Sea ports is the key to peace and stability in the global food market," Zelenskiy said in his evening video address on July 25.
Zelenskiy spoke earlier with British Prime Minister Rishi Sunak about how to ensure the flow of Ukrainian grain to international markets amid fresh air strikes by Russia on the port city of Odesa and the capital Kyiv.
"First and foremost, we talked about protecting our southern regions, in particular Odesa, the normal life of people and the work of our ports," he said in the video. "Rishi and I discussed possible steps and the possible number of air-defense batteries. The United Kingdom can become the leader whose assistance with air defense systems will guarantee real security."
Russian strikes in recent days have targeted Ukrainian food-export facilities, including on Danube ports close to the border with NATO-member Romania.
Kyiv has accused Moscow of targeting grain supplies and infrastructure since suspending its participation in the Black Sea grain deal brokered last year by the United Nations and Turkey with Russia and Ukraine to help alleviate a global food crisis worsened by Russia's invasion.
Sunak said he made it clear during the call with Zelenskiy that any efforts by Russia to prevent grain from leaving Ukraine would be "completely unacceptable."
Meanwhile, Russia said on July 26 it will not speak at a UN Security Council meeting on the grain deal, citing Britian's decision to block Moscow-aligned Orthodox Bishop Gedeon (aka Yuriy Kharon) from testifying at a different Security Council meeting on Kyiv's efforts to get rid of pro-Moscow Orthodox clerics.
In 2019, Kyiv stripped Gedeon of Ukrainian citizenship and deported him to Moscow.
On the battlefield, Ukrainian defenders over the past 24 hours fought off numerous Russian attacks in Kharkiv while continuing their incremental push in the southern region of Zaporizhzhya, the General Staff of the Ukrainian military said in its daily report on July 26.
"In the Kupyansk direction [of the Kharkiv region], our soldiers are firmly holding the defense," the military said. "At the same time, Ukrainian forces continue to conduct an offensive operation in the Melitopol and Berdyansk directions [in Zaporizhzhya]," it said, adding that in total, Ukrainian forces fought 26 close combat battles in the past day.
Russian forces shelled and launched air strikes on more than 30 settlements in Zaporizhzhya and the Kherson region in the south, the military said.
Meanwhile, Pavlo Kyrykenko, the governor of the Donetsk region, said a 12-year-old girl died after being wounded in a Russian attack on a river bank in Kostyantynivka, raising the number of those killed to three.
Another child, a 10-year-old boy, was among those killed in the Russian attack on July 24 that Kyrylenko said used cluster munitions. Several other children who were on the river bank were wounded.
On July 25, the United States announced an additional $400 million security package for Ukraine, including air defense munitions, armored vehicles, anti-armor weapons, and other "critical military assistance" from Defense Department stockpiles to help it retake territory and defend against Russian missile strikes.
The Pentagon announced the package after the European Union announced a 1.5 billion-euro ($1.66 billion) aid disbursement to help Ukraine repair infrastructure amid fresh air strikes by Russia on the port city of Odesa and the capital, Kyiv.
The U.S. aid is the 43rd drawdown of equipment from Defense Department inventories for Ukraine since August 2021, the Pentagon said in a statement.
The package includes munitions for Patriot air-defense systems and National Advanced Surface-to-Air Missile Systems (NASAMS), Stinger antiaircraft systems, more ammunition for High-Mobility Artillery Rocket Systems (HIMARS), Stryker armored personnel carriers, and a variety of other missiles and rockets.
With reporting by Reuters and AFP