World
Has Wagner leader Yevgeny Prigozhin been in Belarus since rebellion?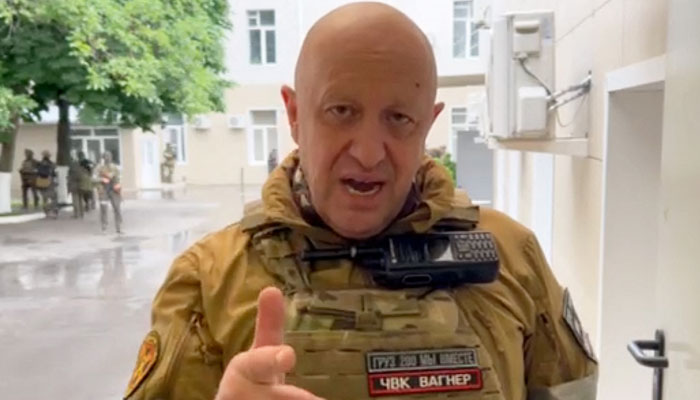 Wagner chief Yevgeny Prigozhin made his first public appearance since he led a mutiny against the Russian government in a video that emerged on Wednesday, where he appears to greet his fighters in Belarus.
In the video which was first posted on pro-Wagner Telegram channels on Wednesday and was later shared on Prigozhin's account, a man says: "Welcome guys! I am happy to greet you all. Welcome to the Belarusian land! We fought with dignity! We have done a lot for Russia."
The man in the video seems to resemble and sound like the Wagner leader giving rise to speculations that the video could be true.
One of the fighters reportedly addresses the Wagner leader as "Yevgeny Viktorovich", Prigozhin's first name and patronymic in the video, which seems to be unedited and the metadata on the file suggests that it was created on Wednesday at dawn, CNN reported.
While it is difficult to definitively confirm that the man in the video is in fact the Wagner chief Yevgeny Prigozhin as the video is grainy and filmed in low light, Cnn is currently working to geolocate the location of the video.
The leader of the Wagner group, in the video clip, claimed that his forces would temporarily refrain from fighting in Ukraine and criticised the planning and execution of military operations in the country by the Russian Ministry of Defence.
"What is happening now at the front is a disgrace in which we do not need to participate. We need to wait for the moment when we can prove ourselves fully," Prigozhin said.
"Therefore a decision was taken for us to station here in Belarus for some time. I am sure that during this time we will make the Belarusian army second greatest in the world. And if needed, we will defend them if it comes to it.
"I want to ask everyone to really pay attention to the fact that Belarusians welcomed us not only as heroes, but also as brothers," he added.
The Russian mercenary group leader continues to brief his soldiers that their stay in Belarus could be temporary and to prepare to travel elsewhere.
"We should prepare, get better and set off on a new journey to Africa," he said. "Maybe we will return back [to Ukraine] when we will be confident that we will not be asked to make an embarrassment of ourselves and our experience."
According to CNN's examination of satellite images and videos from social media, Wagner fighters first entered a previously abandoned military base in Belarus on Tuesday while at least two other convoys were en route.
While speculations about the future of Wagner head Prigozhin persisted, Belarusian President Aleksan Lukashenko asserted that Prigozhin had arrived in Belarus after the mutiny had ended.
However, no one was able to corroborate that for weeks.
Then, earlier this month, Lukashenko changed his position that Prigozhin was in St. Petersburg and might be going "to Moscow or elsewhere."
Prighozin was alive and at liberty as of Wednesday, according to the chief of Mi6.
In order to put a stop to the brief uprising, he asserted that Russian President Vladimir Putin had no alternative but to come to an arrangement with the Wagner leader, claiming that Putin "cut a deal to save his skin."