World
Fact Check: Was Antifa protester pictured at Capitol on January 6?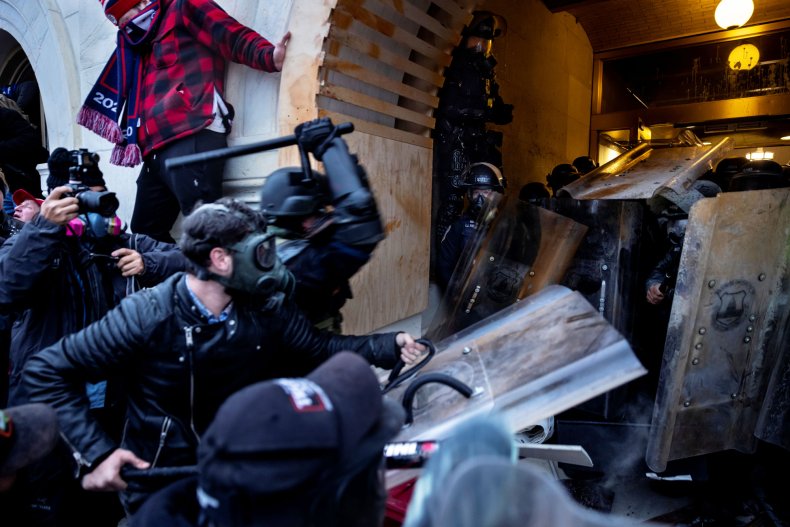 Investigators are still hunting for suspects seen at the January 6 Capitol attack two-and-a-half years ago, despite more than 1,000 arrests that include more than 350 people charged with "assaulting or impeding law enforcement".
The riot has become a fractious topic for many conservatives, some of whom have decried the manner in which those who entered the Capitol building have since been treated.
The riot began following a pro-Trump rally near the Capitol, with the crowd typically described as Trump-supporting.
Yet a recent tweet by Representative Marjorie Taylor Greene, a Georgia Republican, suggested that an associate of the left-wing movement Antifa was also involved.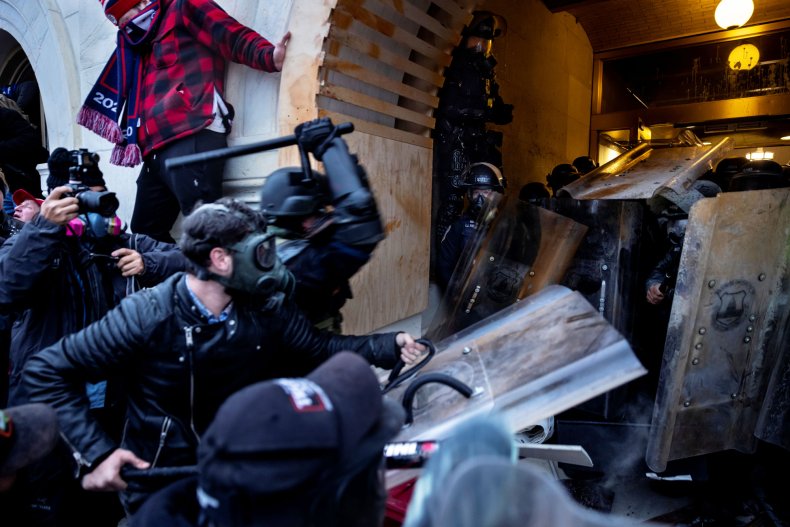 The Claim
A tweet by Rep. Marjorie Taylor Greene, posted on July 25, 2023, viewed 283,000 times, shared another post juxtaposing photos captioned "ANTIFA attacking police in Portland" and "ANTIFA attacking on J6."
The photo said to be from January 6 shows a person in a black helmet, holding a baton in what looked like a violent gesture. The opposite picture, from a protest in Portland, Oregon, shows a group of people wearing black helmets.
Greene tweeted: "Interesting how the DOJ hasn't spent their resources on prosecuting Antifa. Anyway. Try that in a small town.."
The Facts
There have been numerous claims since January 6 that Antifa was a part of or infiltrated the crowd that stormed the U.S. Capitol.
The FBI told reporters there had been "no indication" that Antifa was disguised among the crowd when asked two days after the riot about such theories.
FBI Director Christopher Wray echoed that on March 2, 2021, stating: "We have not seen, to date, any evidence of anarchist violent extremist or people who subscribe to Antifa in connection with Jan. 6."
Some claims have already been debunked. In 2021, CNN fact-checking journalists assessed claims by Rep. Paul Gosar (R-AZ), Rep. Matt Gaetz (R-FL) and then Rep. Mo Brooks (R-AL), that Antifa had snuck in among Trump supporters; they found no evidence to support it.
In August last year, USA Today also investigated a video said to depict Antifa in the Capitol dressed as Trump supporters. The video, however, was unsubstantiated and journalists found no other evidence that left-wing sympathizers were part of the crowd.
The latest claim, which juxtaposes an image of a protest in Portland from June 29, 2019, with an individual photographed just outside the Capitol, creates the impression that Antifa followers may have been present on January 6.
However, the person highlighted as Antifa does not appear to be part of that movement.
The photo was published as part of a collection available via Getty Images; these also show the person unobscured by their helmet and less obscured by the crowd.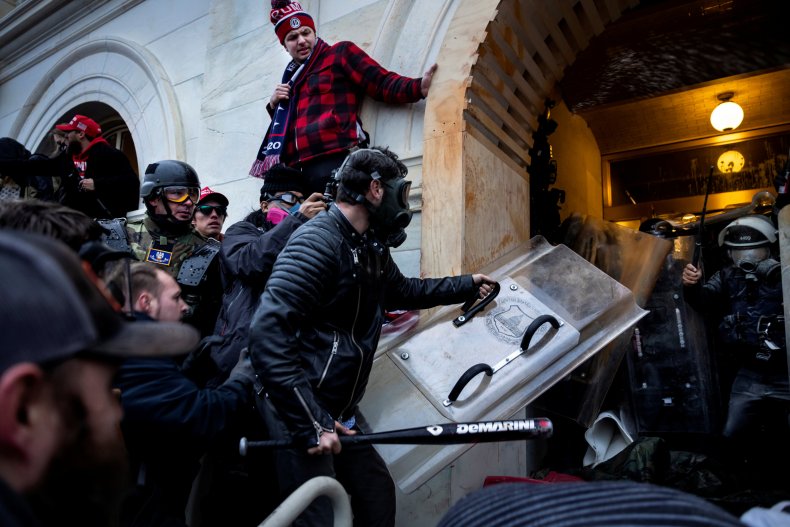 Unlike typical Antifa dress conventions, the person is not head-to-toe in black, instead wearing a camo overshirt under black shoulder pads, with wraparound orange visors.
Looking closer, they can also be seen wearing a patch of Louisiana's official state motto "Union, Justice and Confidence", which is on the state's flag and seal. There appears to be no link between this symbol and symbols worn or adopted by Antifa associates.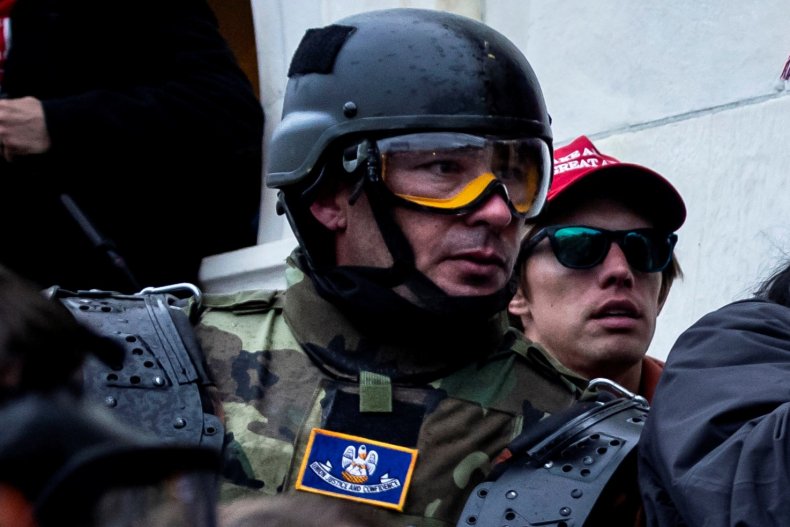 January 6 blog Sedition Hunters, using video and film footage from the riot, was further able to identify the person without the helmet and visor. A photo of them remains on the FBI website among the list of people the bureau has requested information on.
Newsweek contacted the FBI via email for comment. A spokesperson for the U.S. Attorney's Office for the District of Columbia responded and told Newsweek that it "cannot comment on ongoing investigations."
Since the person has not yet been found, we cannot say with absolute certainty whether or not they had any Antifa sympathies.
However, as we have mentioned, investigations have not stated that any of the more than 1,000 individuals arrested had links to Antifa.
Newsweek has contacted a Marjorie Taylor Greene representative via email for comment.
In light of the testimony of security officials who have stated that there was no evidence Antifa was among the January 6 crowd, and no evidence or reasoning that the person in the photo shared on Twitter was associated with the left-wing movement, we can confidently conclude that the claim shared by Taylor Greene is false.
A Department of Justice investigation into Trump's alleged involvement in the January 6 riots continues. Special Counsel Jack Smith this month sent a letter to Trump stating that he is a target of the investigation. Trump has maintained his innocence, accusing prosecutors of investigating him for political purposes.
The Ruling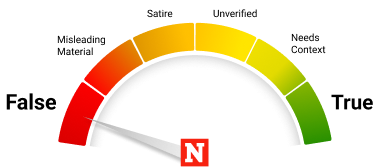 False.
The photo shared by Marjorie Taylor Greene via Twitter is not evidence that there was an Antifa follower in the crowd on January 6. Other images show the person unobstructed by their helmet, wearing a Louisiana state flag patch that is not associated with Antifa.
There is no other compelling evidence that suggests the person in the photo is associated with Antifa, (more the opposite), further supported by prior investigations that concluded Antifa followers were not present on January 6.
FACT CHECK BY Newsweek's Fact Check team