World
Exclusive—Trump on Smith's Superseding Indictment: 'This Is Harassment'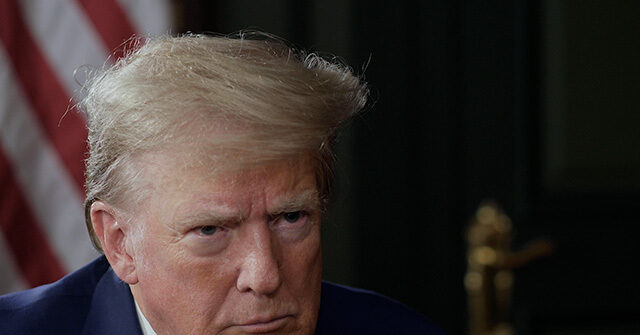 BEDMINSTER, New Jersey — Former President Donald Trump told Breitbart News exclusively here on Thursday night that Special Counsel Jack Smith's latest action, a superseding indictment bringing more charges against him, is "harassment."
Trump, who made the comments during a nearly hourlong exclusive on-camera interview at his golf club here, is now facing additional charges from Democrat President Joe Biden's Justice Department. In addition, a third defendant, Carlos De Oliveira—Mar-a-Lago's head of maintenance—now also faces charges, joining Trump and Trump valet Walt Nauta. Trump said the Presidential Records Act should protect him, and bashed the DOJ for coming after him but ignoring Biden. Trump argued the way Biden handled documents was reckless.
"I just heard it as I'm sitting down. This is harassment. This is election interference," Trump said when asked to respond to the superseding indictment and additional charges. "I'm protected by the Presidential Records Act totally. It shouldn't even be a case. It's not a criminal case. Where's Biden with all the documents? He's got 20 times, 30 times the documents I have, and he has not made it easy for them either. He has been hiding boxes. They're sending boxes to Chinatown. Boxes are being sent to Chinatown, and yet China is paying them millions of dollars. You explain that one. You don't even hear about it. All you hear about is Trump. No, this is a two-tier system of injustice. That's what we have. We have a sick country. Our country is very sick right now. We have a failing nation and it's a very sad thing to watch."
Trump's interview with Breitbart News, which was long-scheduled, came moments after the Special Counsel's office unveiled the superseding indictment, which added additional charges against Trump and Nauta and introduced De Oliveira as a defendant. The central new allegation is that the Special Counsel claims Trump and the others sought to delete Mar-a-Lago security footage in the summer of 2022.
Trump spokesman Steven Cheung, in response, also blasted the move from Smith as a "continued desperate and flailing attempt by the Biden Crime Family and their Department of Justice to harass President Trump and those around him."
Trump also told Breitbart News that if elected president again—he is currently the leading GOP candidate for the White House—he would fire Smith. Trump also cited failed cases Smith's office has brought against other politicians from both political parties, particularly the cases his office failed on against former Virginia GOP Gov. Bob McDonnell and against former Sen. John Edwards (D-NC). In the McDonnell case, the conviction Smith's office obtained was overturned unanimously by the U.S. Supreme Court. In the Edwards case, charges Smith's office brought failed—Edwards was acquitted on one, and the jury deadlocked on the others, with the DOJ not retrying him in the end.
"I wouldn't keep him," Trump replied when asked if he would fire Smith. "Jack Smith? Why would I keep him? He is—look, he's gone after other people. He's been overturned unanimously in the Supreme Court. He's destroyed a lot of lives. Lives have been destroyed. He's destroyed people—he's destroyed lives… He was Lois Lerner and the IRS case, which was one of the most egregious abuses what happened. The government had to apologize to people. He went after Christians. This is a guy—he's a wild man. I call him deranged. He's been overturned. He went after the governor of Virginia—overturned unanimously. He went after another senator or something and was overturned. What he's done is just horrible. The abuse of power—it is prosecutorial misconduct."
Asked specifically if he thinks the legal troubles he faces from Smith will end up like the McDonnell case or the Edwards case, Trump said he thinks history will remember this all as an "embarrassment" for Democrats and for the nation. Trump added that he believes the reason Biden's Justice Department is bringing these charges is because they wanted to take him out in the GOP primary, but instead he says the cases have bolstered leads he already had over Florida Gov. Ron DeSantis and other GOP candidates. Trump said he believes the public sees it his way, which is why he says his poll numbers keep rising—in both the primary and the general.
"I think they'll end up being an embarrassment to the Democrats and an embarrassment to our country and they have lifted my poll numbers, in all fairness," Trump said. "They didn't want to run against me. That's why they did it. They did this so I wouldn't get the nomination. It's actually had the reverse effect. It's lifted my numbers—but I was winning anyway by a lot. Now the polls just came out today and I'm winning by like 40 points, 45 points, and I'm also beating Biden by a lot—and DeSantis, or DeSanctimonious as I call him, is losing very badly to Biden. I'm winning by a lot to Biden. They don't want to run against me, that's why they did it. It's had a reverse impact because the public is smart and they see this stuff for now, mayb,e a January 6 case—maybe not too—because I did nothing wrong. But what they're doing, it's not been received very well by the public, because the poll numbers are through the roof. They did this in order to get me out. It's incredible, because the public gets it and it had the opposite impact."
Trump's acknowledgment in this interview that there may be another case coming, on January 6 matters, comes after earlier on Thursday prosecutors from Smith's office met with Trump's attorneys. Some media outlets reported that Trump's attorneys were told during that meeting that Trump would be indicted imminently—the D.C. grand jury meets on Tuesdays and Thursdays, so some thought it might happen on Thursday, even though ultimately it did not—but Trump later said on Truth Social that such a notification was not made. Trump previously revealed a target letter that Smith's office sent him on such matters. While Trump did acknowledge in this interview a new case on January 6 matters could happen, he also clearly expressed hope that he would not face charges in such a separate case from the documents case, again reiterating he believes he "did nothing wrong."
More from Trump's latest exclusive interview with Breitbart News is forthcoming.