World
DOT Announces Rule Calling For Wheelchair-Accessible Toilets On Single-Aisle Planes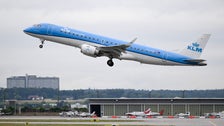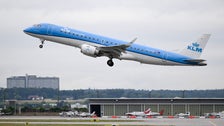 The U.S. Department of Transportation (DOT) issued a final rule under the Air Carrier Access Act (ACAA) on Wednesday that will make airplane bathrooms more accessible to disabled travelers.
The new regulation will require new single-aisle aircraft bathrooms with a minimum of 125 seats to have larger, wheelchair-accessible bathrooms with accessibility features such as grab bars and accessible faucets, controls, call buttons and door locks.
"We are proud to announce this rule that will make airplane bathrooms larger and more accessible, ensuring travelers in wheelchairs are afforded the same access and dignity as the rest of the traveling public," U.S. Transportation Secretary Pete Buttigieg said in a statement on Wednesday.
Accessible bathrooms have been provided on the two-aisle aircraft for decades, according to The New York Times. But there has been no requirement for accessible bathrooms to be provided on single-aisle planes, which are commonly used for longer flights.
Most single-aisle aircraft bathrooms are too small to accommodate onboard wheelchairs or attendants and lack the accessibility features needed to support passengers with physical, visual and other disabilities, the DOT wrote in the final rule, adding that airlines tend to forgo accessible bathrooms in favor of additional rows of seats.
As a result of this barrier, many disabled people choose not to fly unless absolutely necessary, according to a survey conducted by disability groups.
"It is an unfortunate reality that today, many air travelers with disabilities, knowing that they will not be able to use the lavatory during a flight, may dehydrate themselves or even withhold bodily functions so that they do not need to urinate. These actions can cause adverse health effects, including increased chances of urinary tract infections," the DOT wrote in the final rule.
Efforts To Address Airline Travel Accessibility
The Transportation Department's rule is a culmination of yearslong efforts to address issues of airline inaccessibility.
The Air Carrier Access Act, enacted in 1986 and amended in 2000, prohibits U.S. airline carriers and foreign carriers from discriminating against disabled individuals.
In 2016, the Department established the Advisory Committee on Accessible Air Transportation, which consisted of disability rights activists, airline manufacturers, airlines and flight attendants to develop regulations on accessibility issues to ensure nondiscriminatory services are provided to disabled individuals.
The committee developed recommendations that year for new regulatory proposals to improve the accessibility of bathrooms on single-aisle aircraft. In 2020, the DOT issued a notice of proposed rulemaking (NPRM) for short-term improvements involving changes to bathroom interiors, additional training and information procedures relating to bathroom accessibility, and improvements to the aircraft's onboard wheelchairs.
Last year, the DOT issued an NPRM for long-term improvements requiring airlines to install larger bathrooms on certain single-aisle planes that would accommodate an on-board wheelchair transfer of a disabled passenger to and from the toilet, with or without assistance.
Its final rule on Wednesday combines and addresses the issues presented in both the long-term and short-term NPRMs from recent years. The rule is one of several other efforts brought forward by the DOT to make travel easier and more accessible for disabled passengers, including a bipartisan infrastructure law that will modernize airport terminals.
These provisions on bathroom accessibility features are expected to be added to new planes delivered within three years after the rule takes effect. The bathroom size expansion is expected to take effect for new planes ordered in 10 years or delivered in 12 years — a timeline still faster than the original one laid out in 2016.
"[Transportation Secretary Pete Buttigieg] moved the ball forward on air travel accessibility by years," Vincenzo Piscopo, president and CEO of the United Spinal Association, said in a statement. "While we still have work to do, this is amazing progress."