World
Donald Trump's defamation lawsuit against CNN thrown out by federal judge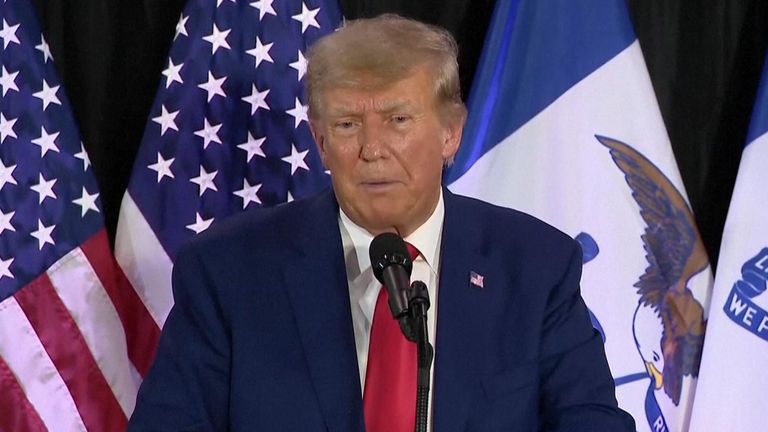 A federal judge has rejected a $475m (£369m) defamation lawsuit brought by Donald Trump against CNN.
The US news network described the former US president's claim that the 2020 presidential election was stolen from him as a "big lie".
The same phrase was used by Adolf Hitler to justify prejudice against Jewish people, and is associated with Nazi propaganda.
But US Judge Raag Singhal, who was nominated by Mr Trump in 2019, said CNN's words, while "repugnant", were opinion, not fact.
For that reason, they could not be the subject of a defamation claim, Judge Singhal said.
"CNN's statements, while repugnant, were not, as a matter of law, defamatory," the judge wrote.
There were five instances during which CNN either published stories or aired comments which referred to Mr Trump's comments about the 2020 election as a "big lie", the lawsuit alleged.
Read more:
Trump joins Republican presidential candidate rivals at campaign dinner
Trump accused of asking employee to delete footage
Filed in October 2022, the lawsuit said the wording constituted a "deliberate effort by CNN to propagate to its audience an association between the plaintiff and one of the most repugnant figures in modern history".
But merely using the "big lie" phrase was not enough to evoke a clear connotation, Judge Singhal said.
"No reasonable viewer could (or should) plausibly make that reference," he added.
Trump jokes about his legal challenges

A Trump spokesperson said: "We agree with the highly respected judge's findings that CNN's statements about President Trump are repugnant.
"CNN will be held responsible for their wrongful mistreatment of President Trump and his supporters."
It is unclear whether Mr Trump, who is running to be president again, will appeal the decision.
He has often attacked media outlets he dislikes, describing certain reports as "fake news".
Earlier this month, Mr Trump said he had received a letter notifying him he is a target in a US Justice Department investigation into attempts to undo the results of the 2020 presidential election.
A federal judge has set a trial date for him in the classified US documents case in Florida – one of several legal battles he faces as he campaigns to regain the White House.