World
DeSantis Staffer Who Reportedly Made Ad Featuring Nazi Symbol Fired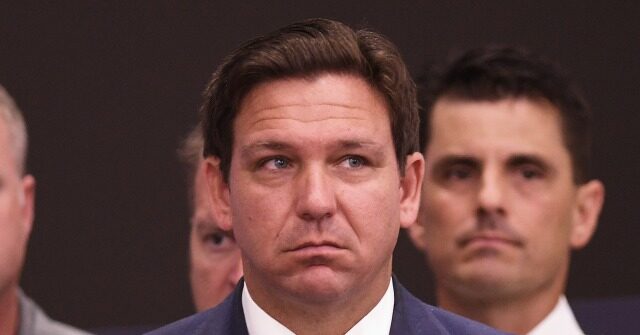 A DeSantis staffer who reportedly made a pro-DeSantis video featuring a Nazi symbol has been fired by the campaign — news that follows the campaign firing dozens of staffers as part of its reset.
Over the weekend, a pro-DeSantis account tweeted a video bashing former President Donald Trump and uplifting Gov. Ron DeSantis (R-FL). The end of the ad featured an image of DeSantis with Florida's state seal as the backdrop. However, the seal then turned into a sonnenrad, a Nazi symbol.
The video caught attention because it was shared by a staffer. But according to Axios, that staffer, Nate Hochman — which the outlet describes as a "speechwriter on the DeSantis campaign and a former writer for National Review" — made the video himself and initially shared it on the pro-DeSantis account before retweeting it. However, it was eventually deleted.
A DeSantis campaign official told Axios that Hochman is "no longer with the campaign."
"And we will not be commenting on him further," the official added.
Scoop: This staffer didn't just retweet the video.
He secretly made the video w/ the Sonnenrad, per a person familiar.

It was then shared through @desantiscams where the staffer retweeted it. The video was later deleted it but here it is.
My story pic.twitter.com/DJdy71DzwD

— Alex Thompson (@AlexThomp) July 25, 2023
Hochman's firing coincides with a reset across the entirety of the campaign, as it recently laid off dozens of staffers in an attempt to streamline operations. According to reports, it laid off 38 staffers. DeSantis campaign manager Generra Peck touted the campaign's changes as part of the "aggressive steps" to "streamline operations."
"Following a top-to-bottom review of our organization, we have taken additional, aggressive steps to streamline operations and put Ron DeSantis in the strongest position to win this primary and defeat Joe Biden," Peck said in a statement.
"Gov. DeSantis is going to lead the Great American Comeback, and we're ready to hit the ground running as we head into an important month of the campaign," she continued.
That move followed chatter over the composition of the DeSantis donor base. Critics have pointed out that the governor's small-dollar donors are "almost non-existent, making up 15 percent of his take." Donald Trump Jr. is among those who believe the "Never Trump billionaire donor movement" is behind what many consider DeSantis's premature presidential bid.
"I think it's pretty clear, as evidenced by the small-dollar donors — 15 percent of the entire take, right? So it's all the billionaires; that's who wants that because they want a president they can control," he told Breitbart News during an interview at the Turning Point Action Conference in West Palm Beach, Florida.
WATCH — Donald Trump Jr.: Never Trump Billionaire Donor Movement Largely Behind DeSantis Bid
Jack Knudsen / Breitbart News
The latest weekly Morning Consult survey found DeSantis sinking to a "weekly tracking low," with 16 percent support.