World
Coming off iconic college career, Drew Timme is now starting back at the bottom in NBA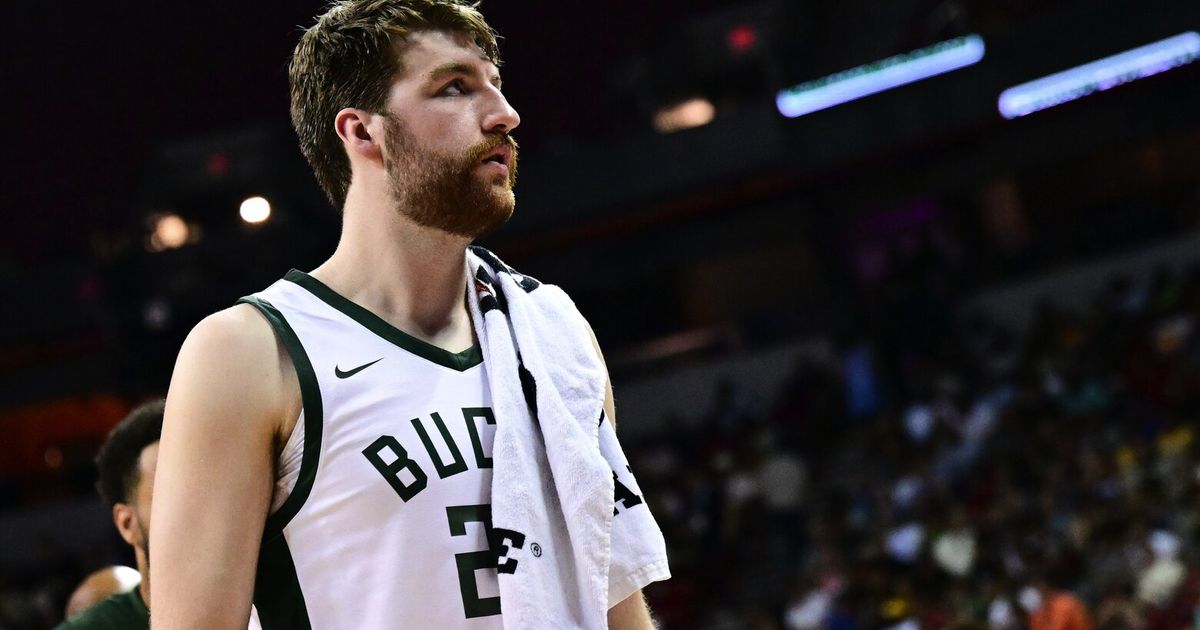 LAS VEGAS — It's a waiting game for Drew Timme on Milwaukee's bench during a July 11 NBA Summer League game against Brooklyn at Cox Pavilion in Las Vegas.
The first quarter goes by without a cameo from Timme. Same thing in the second quarter. A similar pattern follows in the third, but late in the quarter Timme gets a knee tap from Milwaukee coach Adrian Griffin, signaling he'd be part of the Bucks' starting unit in the fourth.
Seconds after checking in, Timme gets his first touch, catching the ball at the top of the key. Sensing that Brooklyn's RaiQuan Gray is pressed up against his back, Timme goes to one of his favorite tricks, swiveling away from the defender to create separation. Moments later — and officially 15 seconds after checking into Milwaukee's third summer league game — Timme finishes with a scoop shot at the rim.
But it doesn't take long for the harsh reality of Timme's new situation to set in. A few possessions later, the Gonzaga product coughs up the ball trying to make a pass out of the post and his only stint in a 92-71 victory ends after just 2 minutes, 6 seconds.
"You've just got to be ready when your number's called and I think it's a good lesson," Timme said after a game against the Phoenix Suns two days earlier. "It's part of the learning process."
For the vast majority of an unrivaled career at Gonzaga, Timme was a player who thrived off rhythm, feel and instinct. If he scored on consecutive possessions, chances are he wasn't giving the ball up the next time down the floor.
That mindset sunk Memphis in the second round of the 2022 NCAA tournament when Timme scored 25 points, including five straight baskets to open the second half, helping the Bulldogs claw out of a 10-point hole.
During a 99-90 win at Pacific last season, Timme scored 24 of his 38 points after halftime, at one point accounting for nine consecutive Gonzaga baskets. He took 23 shots in that game — eight more than he did all of Milwaukee's stint at summer league.
He played 12 minutes in the opener against Denver and former GU teammate Julian Strawther, 7 minutes against Phoenix, 2 minutes against Brooklyn and rounded out summer league with 16 minutes against Miami.
Timme averaged 4.3 points per game while shooting 46% from the field and 33% from three-point range. He also had 2.5 rebounds per game.
"You've got to learn how you can be impactful in short spurts and it's obviously different, so you don't have time to feel your way into a game," Timme said. "You've got to be feeling it right away."
It's all part of Timme's new role, and new reality, as an undrafted rookie who signed an Exhibit 10 contract with the Bucks last month. That means he theoretically has an upper hand at earning a two-way contract or G League spot but still hasn't secured a job in the NBA beyond four games at summer league.
After 30 NBA teams passed on drafting the three-time All-American — some of them as many as four times — Timme shifted his attention to the undrafted free-agency market. Less than 10 minutes after the draft ended, he had contact from Milwaukee.
The Bucks reached out to Timme's agent, Hal Biagas of Seven1 Sports & Entertainment — the same agent who represented him in name, image and likeness matters at Gonzaga — and Milwaukee general manager Jon Horst made a personal call to the Gonzaga forward later on to offer an Exhibit 10 contract.
Timme evaluated Milwaukee's offer and sifted through five others he considered to be "legitimate options" before selecting the Bucks.
"It was crazy. Obviously, things didn't go how I would've imagined," Timme said of his draft-night experience. "But Milwaukee was the first one to call me. It just seemed like a great place. The head coach was coaching the (summer league) team. It seemed like a great opportunity, great organization.
"It's kind of a no-brainer for me to just hop in with him and it's been an adjustment period learning different actions, different rules, different defense. It's just a bunch of different things and just trying to learn as much as you can as quick as you can, because it's learn or be left."
Despite leaving Gonzaga as the school's career scoring leader (2,307 points), Timme wasn't necessarily valued by NBA front offices as a draftable asset, lacking the rim protection, general defense and perimeter shooting that teams covet in a modern forward/center.
"I wouldn't say I expected to (be drafted), but at the same time I wouldn't have imagined that either, if that makes sense," he said. "You figured, but at the same time there's always just that little bit of hope maybe. I was just excited to get to work. … They were like, that's what we want. Bring some fire, some juice, bring what I do best and that's think the game through. They're excited and it just seemed like such a great fit."
Timme's opportunities at summer league were sporadic and unpredictable, but perhaps not entirely reflective of his chances to stick with Milwaukee and land a two-way contract.
The draft-night phone call from Horst and urgency in which the Bucks moved to get something done suggest Timme was a top free-agent target for Milwaukee.
The uncontrollable aspect of Timme's new situation is something that can be hard to reckon with for any player. Unlike the past four years, it's not guaranteed what his role will look like, or that he'll have a role at all, in the NBA/G League.
"It's kind of nice going from the top of the totem pole back to the bottom and having to claw for everything and work," he said. "It's different and it's a good change of pace and I'm excited just to learn so much and not know the stuff like I used to."
Toward the end of Gonzaga's 2022-23 season, Timme announced he'd pass up the opportunity to play a fifth college season, then doubled down on multiple occasions when the Bulldogs' tournament run ended.
"I did everything I could do at GU and I just don't think I wouldn't have gotten any better coming back, and I think I did everything I could possibly do, so I was excited just to get a new challenge and experience something new," Timme said. "I think this is exactly what I wanted and have to claw and flight and really work to get what you want. That's just kind of what's driving me right now, is to prove myself again."
Back at the bottom of the totem pole, motivation won't be in short supply.
"It's always fun to prove yourself and make it when people say you can't make it or you're not supposed to," Timme said. "So, that's kind of what brings me joy. Just getting back to the grind and getting nasty with it."