World
2023 Evian Championship: final round – live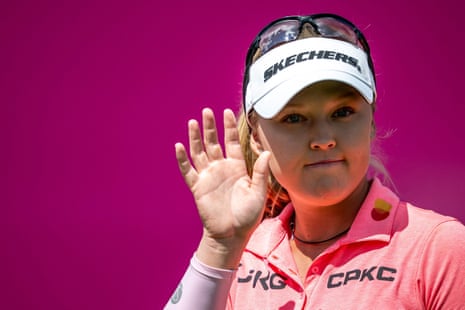 Key events
Boutier is within her rights to take relief, as she's standing on the cart path. But the lie is as good as can be expected in the rough, so she'll hit what she finds. And though she misses the green, short and right, it's the place Henderson found herself a couple of minutes ago. A very makeable chip coming up.
Boutier screams in anguish as she sends yet another shot wide left, this time from the 10th tee. "No!" But she gets a good break as her ball, which looks to be heading deep into the woods, clips back off a tree and stops by a cart path. She'll have a line in from there. Meanwhile up on the green, Henderson nearly holes her chip but settles for par. Some fine scrambling.
-14: Boutier (9)
-9: Henderson (10)
-8: Hataoka (9)
-7: Lopez (13)
-6: Saso (11)
OK, Boutier can't make the birdie putt, but she'd surely have grabbed a par with both hands when she discovered her lie to the side of the green. The par means she's traversed the front nine in 32 strokes and remains five in the lead. Par for Hataoka. Meanwhile up on 10, Henderson is able to advance her ball to a greenside position. She'll need to get up and down from the bottom of a swale to scramble her par, but it's a decent result given the wildness of her drive.
It'd be easy for Boutier to make a narrative-shifting mistake from here. The lie isn't good, she's got sand to cross, and not much green to play with. But she lobs calmly and softly onto the green, 12 feet from the pin. She'll have a great look at birdie. What a chip that was. Her short game has been amazing all week.
Boutier will have witnessed Henderson making her birdie, from her position halfway down the 9th fairway. When the green is cleared, she pulls a fairway wood wide left and into thick rough. She's short-sided and behind a bunker. Up and down for birdie would be some achievement from there. Meanwhile up on 10, Henderson sends her tee shot into trees down the right and near an out-of-bounds fence. She's still on the property but won't have much of a route into the green.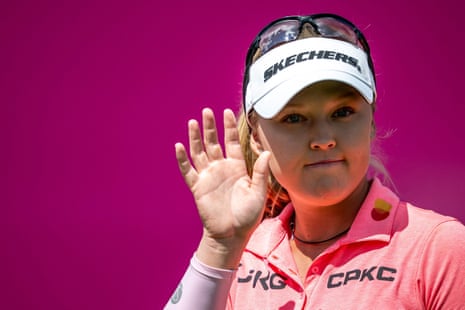 The defending champion Brooke Henderson nearly drains a long eagle putt on 9. Birdie will suffice, though, and she's out in 33 strokes. A little dent has been made into Boutier's lead.
-14: Boutier (8)
-9: Henderson (9)
-8: Hataoka (8)
-7: Lopez (12)
-6: Lee (9)
Boutier crashes her drive at 9 down the middle. This has been a masterclass so far from the leader. A reminder that nothing's won yet, though, as Jeongeun Lee6 and Lexi Thompson can attest.
A fuss-free par at the par-three 8th for the leader Celine Boutier. She really hasn't put a foot wrong so far. She remains six clear at -14.
Par for Megan Khang at 18 and she signs for a final round of 66. She ends the week at -5 and joins Atthaya Thitikul in the clubhouse lead. Meanwhile having missed a short putt for bogey on 7, Minjee Lee pulls another tiddler on 8. A three-putt bogey and in a flash, the 2021 champion's race is as good as run. She's -6.
Boutier's third at 7 is short of the green and wide right. She's down the bottom of a swale and short sided. Not much green to play with at all. But she crisply and carefully wedges to three feet. She's met every challenge so far, and ticks off another here. Par. Just a par for Hataoka, who had a good look at birdie from 15 feet but the putt never looked like dropping. A chance to apply a little bit of scoreboard pressure to the runaway leader goes by.
-14: Boutier (7)
-8: Henderson (7), Hataoka (7)
Boutier sends her tee shot at 7 into the trees down the left. She's got herself out of a couple of sticky situations already today without too much fuss, but here comes another test. She's close to a tree but has a full swing and can get past it. She sends a gentle draw around it and while her ball finds the second cut on the other side of the fairway, she'll have a chance of reaching the green in regulation. A warning for her up on the green, though, where Minjee Lee is unable to secure par having previously found herself in a similar position to Boutier. A short putt lips out. Bogey also for Gaby Lopez, who overhits a greenside lob at 10 and can't chip in from the other side to save par. A first backwards step of the day for the Mexican.
-14: Boutier (6)
-8: Henderson (7), Hataoka (6)
-7: Lopez (10), Lee (7)
Just (!) a par four for Celine Boutier on 6. She looks disappointed after letting a 15-foot birdie putt slide off to the right, but surely would have taken that result after the wayward tee shot. A fine second powered into the heart of the green saved her bacon. In any case, her lead is now six, because Nasa Hataoka misses the green with her approach, duffs a chip, and can't save her par with a putt from the fringe. Hataoka suffered a torrid final round at Pebble Beach in this year's US Open, going into it leading only to shoot a dream-wrecking 76; more Sunday disappointment appears to be on the cards right now.
-14: Boutier (6)
-8: Lopez (9), Lee (6), Henderson (6), Hataoka (6)
Gaby Lopez birdies 9. But for that bobble on 7, she'd be hitting the turn in 30 strokes. Still, a front nine of 31 represents fine work, a six-shot improvement on yesterday. She grabs a share of third alongside Brooke Henderson and Minjee Lee at -8. Meanwhile there's a new clubhouse leader in Atthaya Thitikul, who comes home in 30 strokes for a 65 to end the week at -5. The 20-year-old Thai is surely a major champion of the future, with top-five finishes at the Evian, the PGA and the Dinah Shore already on her resumé. Her last six holes today: 3-3-3-3-3-4. Three birdies and an eagle. What a talent!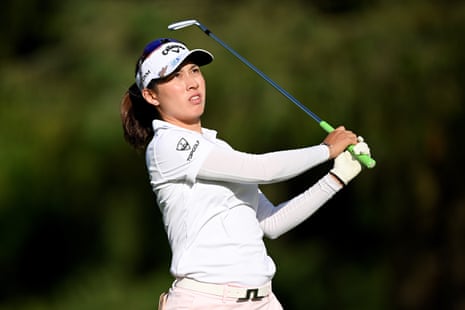 The chasing pack have to make a move soon, or they'll be wholly dependant on Boutier slipping up. A glimmer of hope for them as the leader's drive at 6 finds the thick rough down the left. Meanwhile up on the green, Minjee Lee sticks her approach to four feet and tidies up for a birdie that brings her into a tie for third … only to send her tee shot at the par-five 7th into the trees on the left.
-14: Boutier (5)
-9: Hataoka (5)
-8: Lee (6), Henderson (6)
-7: Lopez (8)
"GET IN!" A holler from the gallery as Celine Boutier pours in a birdie putt from 15 feet on 5. Just the par for Nasa Hataoka and the home favourite is five clear. She nearly allows a little smile to play across her face, but fights it. She's not taking anything for granted. But this tournament is hers to lose now.
-14: Boutier (5)
-9: Hataoka (5)
-8: Henderson (5)
-7: Lopez (8), Lee (5)
Jennifer Kupcho cards 66 to post an early clubhouse lead of -4. A second round of 75 proved costly for last year's Dinah Shore champion. Meanwhile the leader keeps on keepin' on, firing a dart at the flag at the par-three 5th. She's inscrutable at the best of times, and is calmness personified right now. You wouldn't know she's fighting for her first major championship.
Boutier's birdie putt on 4 oscillates along its line. A gentle side-to-side wobble. It looks like dropping, but slides right at the last and lips out. Just a par. Two careful putts for Hataoka as well. Meanwhile bogey for Yuka Saso on 6, the result of a wild drive. The 2021 US Open champion slips back to -5. There's a little bit more separation at the top now.
-13: Boutier (4)
-9: Hataoka (4)
-8: Henderson (5)
-7: Lopez (8), Lee (5)
-5: Khang (15), Borge (7), A Kim (6), Saso (6)
Boutier sends her second at 4 wide left of the green, but she knows what she's doing. It's the smart miss. The hill sends the ball kicking 90 degrees to the right, and the camber of the green gathers it to 15 feet. She'll have a decent look at birdie. Hataoka meanwhile lands her approach on the dancefloor, but she's not getting such a significant kick right from there, and her ball stops softly, a good ten feet outside her playing partner.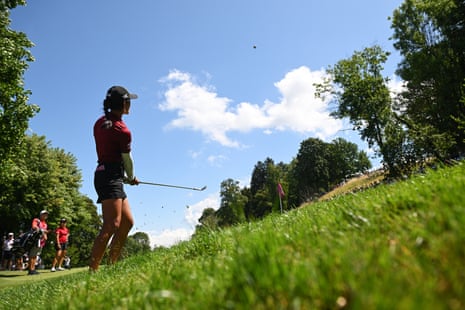 Small Margins dept. Gaby Lopez rolls a birdie effort straight at the hole from 15 feet on the par-five 7th. It looks all the world like her fourth birdie of the round already, but the ball takes a bobble halfway along its route and the loss of energy does for the putt. It stops short and it's just a par. That's awful luck. She remains at -7 and these are the little things that can decide the destiny of major titles.
The defending champion Brooke Henderson makes her first move of the day. She rolls in a 25-foot left-to-right curler on 4 to move into third spot at -8. Back up on the tee, the leader Celine Boutier cracks a drive down the fairway. Nasa Hataoka flirts with a bunker down the right but her ball stops in the first cut and will be absolutely fine.
Hataoka chips up to six feet and leaves herself an uphill putt. She pours it into the centre of the cup to save her par. Boutier also lobs to six feet, but she's got a slight dribbler coming downhill. No matter, though, because she guides the left-to-right slider into the hole and her impressive start continues. Par.
-13: Boutier (3)
-9: Hataoka (3)
Boutier doesn't really take advantage of her good break down the left of 3. Another yard to the left and she'd have been in all sorts of knee-high bother, but she's landed on some relatively short grass. But her second takes a flyer and bounds over the back of the green. Hataoka whistles her second into the heart of the green but it bounds off down a swale to the right of the green. Both players in the final group have some work to do to get up and down for their par.
Nelly Korda shot a fine 64 yesterday, but she's moving in the wrong direction today. A second bogey of the day already, this time at 4, and the 2021 PGA champion is quickly falling out of contention.
Boutier will probably have to stumble if the chasing pack is to have any chance. She pulls her tee shot at 3 towards trouble on the left, but her ball rests between a bunker and some extremely long grass. She might have got away with that, but she peers after it with concern etched across her face anyway. Hataoka finds the short stuff.
Only one other player has started birdie-birdie like Boutier today, and that's Gaby Lopez, who now makes a third birdie of the day, this time at 6. The 29-year-old Mexican, who has never really featured in the majors before, is right in this at -7.
Nasa Hataoka is this close to making another birdie, at the par-three 2nd. Her tee shot isn't worth writing home about, but she tickles a 40-footer down the slope and her ball shaves the left lip. But there's no mistake from Celine Boutier, who drains a putt of similar distance, a gentle right-to-left slider, and it's a birdie-birdie start!
-13: Boutier (2)
-9: Hataoka (2)
Should Boutier win today, she'll become the first French winner of the Evian. She'd also become just the third French woman to win a major championship, after Patricia Meunier-Lebouc, who won the Dinah Shore in 2003, and Catherine Lacoste, who won the US Open as an amateur in 1967. She'd also become the 21st different winner of a major in the last 22 tournaments! The only player to double up during that period: 2021 Evian and 2022 US Open champion Minjee Lee, who is very much in the hunt for her third major title today.
A fast start for Celine Boutier! Having split the fairway with her opening tee shot, she sends a gentle draw into the heart of the green and then rolls in the ten-foot putt that remains. The home crowd, desperate for a maiden French victory in this tournament, roars its approval. She moves to -12 … though Nasa Hataoka remains on her heels by making a carbon-copy birdie herself. That's a big message sent to the rest of the field.
-12: Boutier (1)
-9: Hataoka (1)
-7: Henderson (1), Lee (1)
The final match takes to the tee, so this is very much on. The leader Celine Boutier crashes a drive down the middle of 1, and Nasa Hataoka follows her. It's a sunny but very blustery day at the Evian Resort Club, where a few players have made some early moves. Gaby Lopez is two under for her round through 4, having birdied the opening two holes. Kim A-Lim has birdied 2. Kim Su-ji had reached the turn in 31 blows, with birdies at 1, 5, 7 and 9, but has bogeyed 10 to lose a little of that early momentum. An opening bogey for Nelly Korda, though. Here's the revised leaderboard.
-11: Boutier
-8: Hataoka
-7: Henderson (1), Lee (1)
-6: Lopez (4), A Kim (2), Saso (2)
-5: Korda (2)
-4: S Kim (10), Borge (4), Dryburgh (4), Vu (3), Yin (3)
Celine Boutier very nearly drained a sizeable birdie putt on the 18th yesterday afternoon. Had she done so, the 29-year-old would have been four shots clear of the field at Évian-les-Bains, and almost a shoo-in to become the first-ever French winner of the fourth major in the women's calendar. But a three-shot 54-hole lead won't feel quite so insurmountable to the rest of the field. Just ask Minjee Lee, who two years ago started the final round seven shots behind Jeongeun Lee6 yet went on to lift the trophy.
Boutier has the chops to land her maiden major title; she's got top ten finishes in all the other majors and this could be her time to make the ultimate leap. But she's got some big names on her tail. Nasa Hataoka, who came so close to winning the US Open in 2021. Yuka Saso, who pipped Hataoka that year. The aforementioned Lee. The reigning champion Brooke Henderson. Other previous Evian winners in Kim Hyo-joo and Anna Nordqvist; previous major champions in Nelly Korda, Kim A-lim, Lilia Vu, and Patty Tavatanakit. Oh, and Leona Maguire, who shot 61 here on Sunday a couple of years ago.
So this could be the second major-championship procession in a week. But it could easily turn out very differently. The last pair will tee it up at 12.25pm local time, 11.25am BST; meanwhile here's how the top of the leaderboard looked at the start of the day. Let's get out there, then. It's on!
-11: Celine Boutier
-8: Nasa Hataoka
-7: Minjee Lee, Brooke Henderson
-6: Nelly Korda, Yuka Saso
-5: Kim A-lim, Alison Lee
-4: Angel Yin, Lilia Vu, Gemma Dryburgh, Celine Borge, Gaby Lopez
-3: Kim Hyo-joo, Leona Maguire, Anna Nordqvist, Hsu Wei-ling, Linn Grant, Patty Tavatanakit